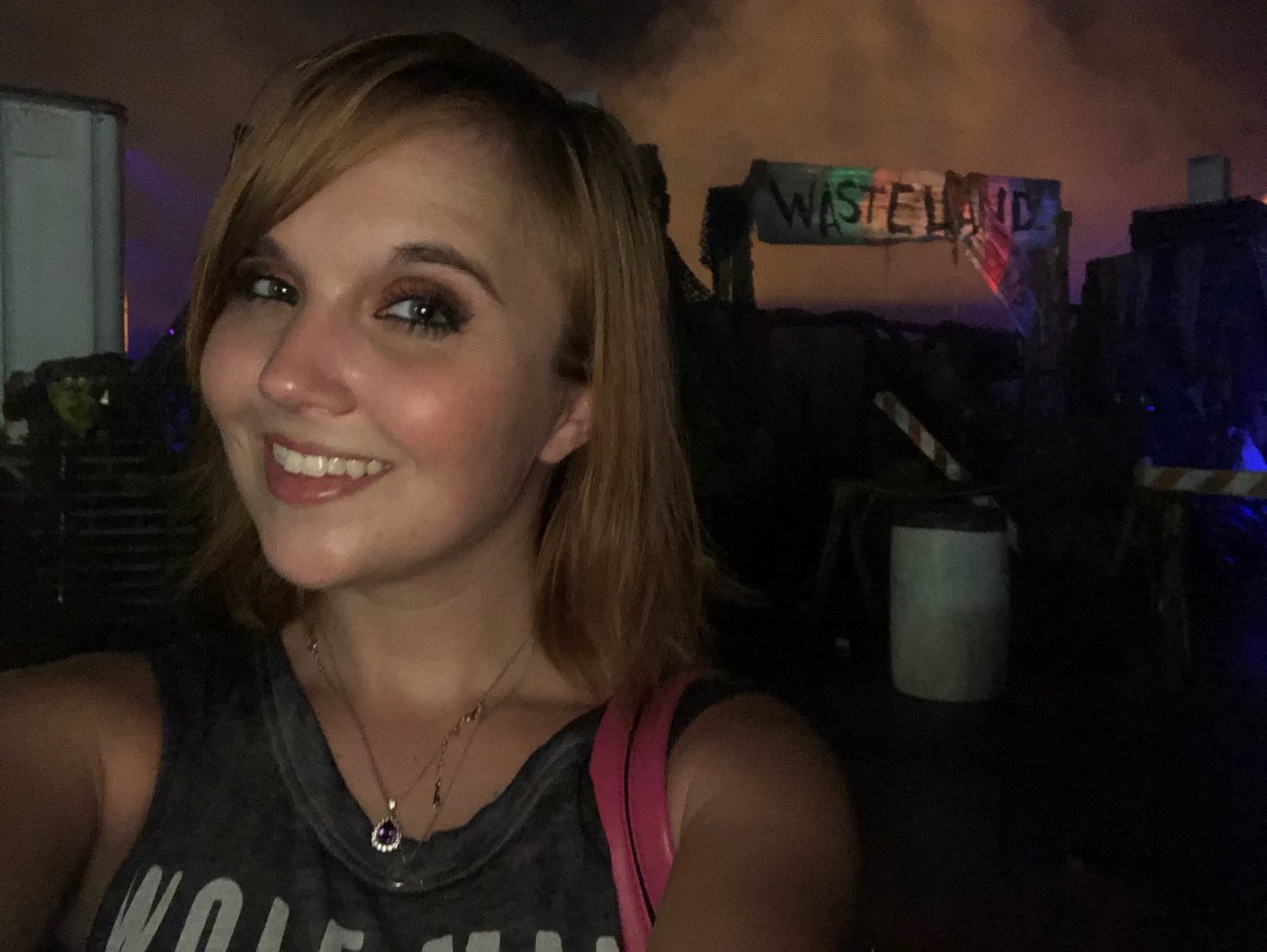 When I arrived at the South Florida Fairground for Fright Nights 2018, memories of my crippling panic attacks I had in the haunted houses at Fright Nights 2015 flooded back to me.
However, back in 2015, we went about the haunted houses entirely wrong – and we went in the zombie house first – in which I had to use an emergency exit because my anxiety was so bad. I have a CRIPPLING fear of zombies.
The second house I went to in 2015 was called "Animal Farm" in which all humans were partial breeds of animals or were being held and treated like animals and as soon as one of the scare actors said "You look like a nice snack for the pigs" to me, I crippled with fear and my then-boyfriend had to carry me through the rest of the haunted house like a small child.
This year, I warned the two guys that went with me to Fright Nights that there were "Scare Zones" throughout the park, however I didn't know that we would have to walk directly through the scare zones in order to get to the haunted houses. Their "Scare Zone" this year was called "Wasteland – Survivor Camp" and it wasn't too bad – but there were a few jump scares.
We went into three houses – the first being Das Krankenhaus, the second was Twisted Tales, and the third was Cuckoo's Nest 2: Wreck the Halls. We steered clear of The Mansion on Meadow Lane because it was the house with the backstory of zombies, and, did I mention that I have a crippling fear of zombies?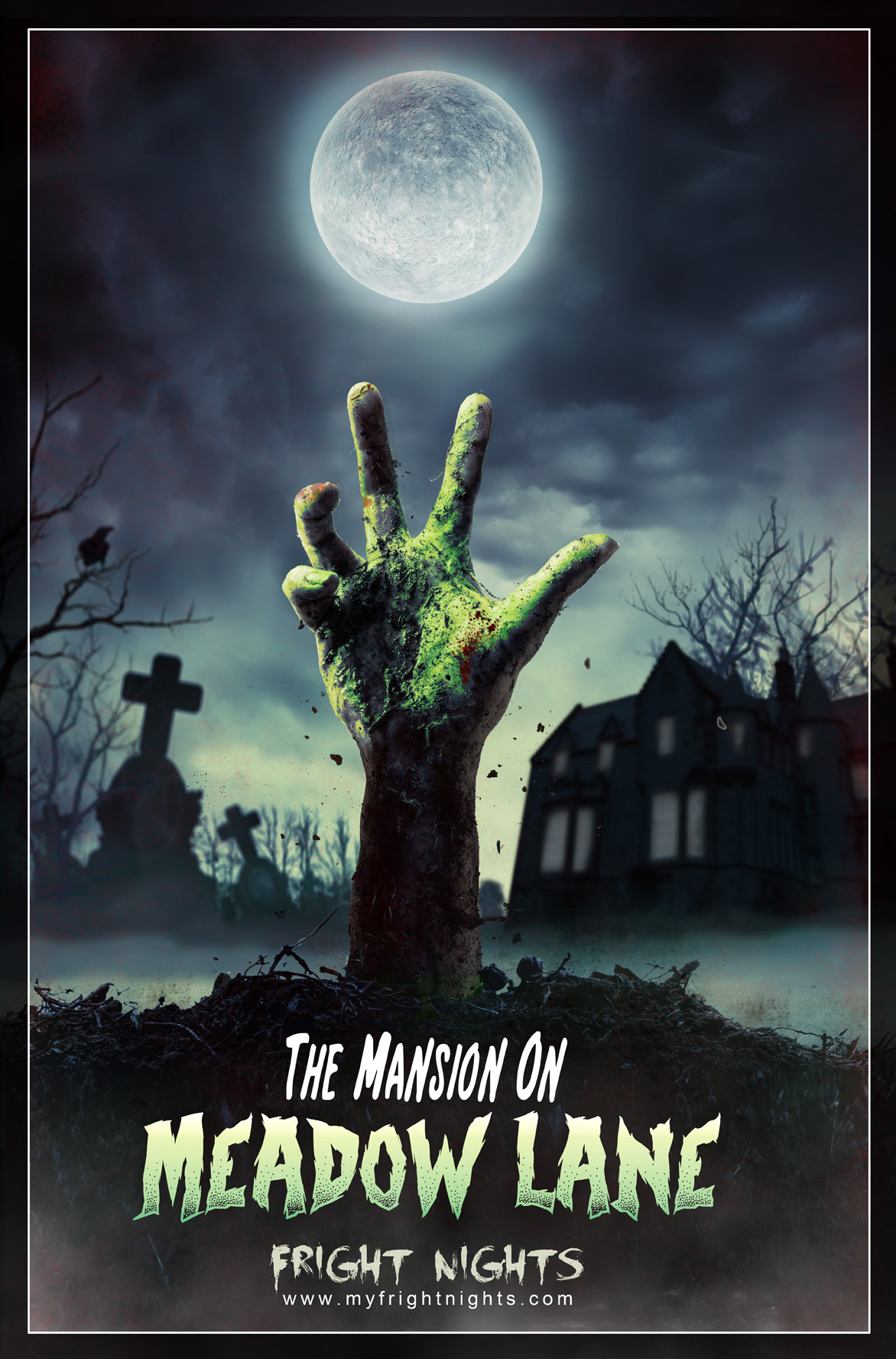 After we made it through the Wasteland, we got in line for Das Krankenhaus which was a pretty long line but it wasn't too bad of an experience because they had entertainment this time – they had a DJ playing the most popular songs and the most popular dance songs, there was one scare actor on the stage who was dancing and doing tricks like breathing fire, and then he would crawl along the barricades doing other tricks like sticking nails up his nose and freaking the whole crowd out.
At one point, my boyfriend pointed out that there was a clown with a saw in line and that he was glad he noticed him. I didn't think anything of it, as some people do dress up to go to Fright Nights. There was also a clown-like woman with him, but I figured someone just dressed up to attend Fright Nights. Sure enough, when they shut the lights off and we thought we were just having a big dance party in line – the clown came running through with the chainsaw, and an Insidious-like demon scared me to death (that moment was caught on video by a friend, check it out below [sorry for swearing, I was terrified]).
The first house that we went to was Das Krankenhaus. The short version of the description on the website is: During the war, the Angel of Death made this foundation of healing into a site of horrific experimental torture. The doctor and his staff performed appalling procedures on their patients in the name of research. It's now been abandoned for over 70 years, but the history cannot be erased. Every year tourists visit the facility to get a glimpse of its past and end up becoming part of the legend.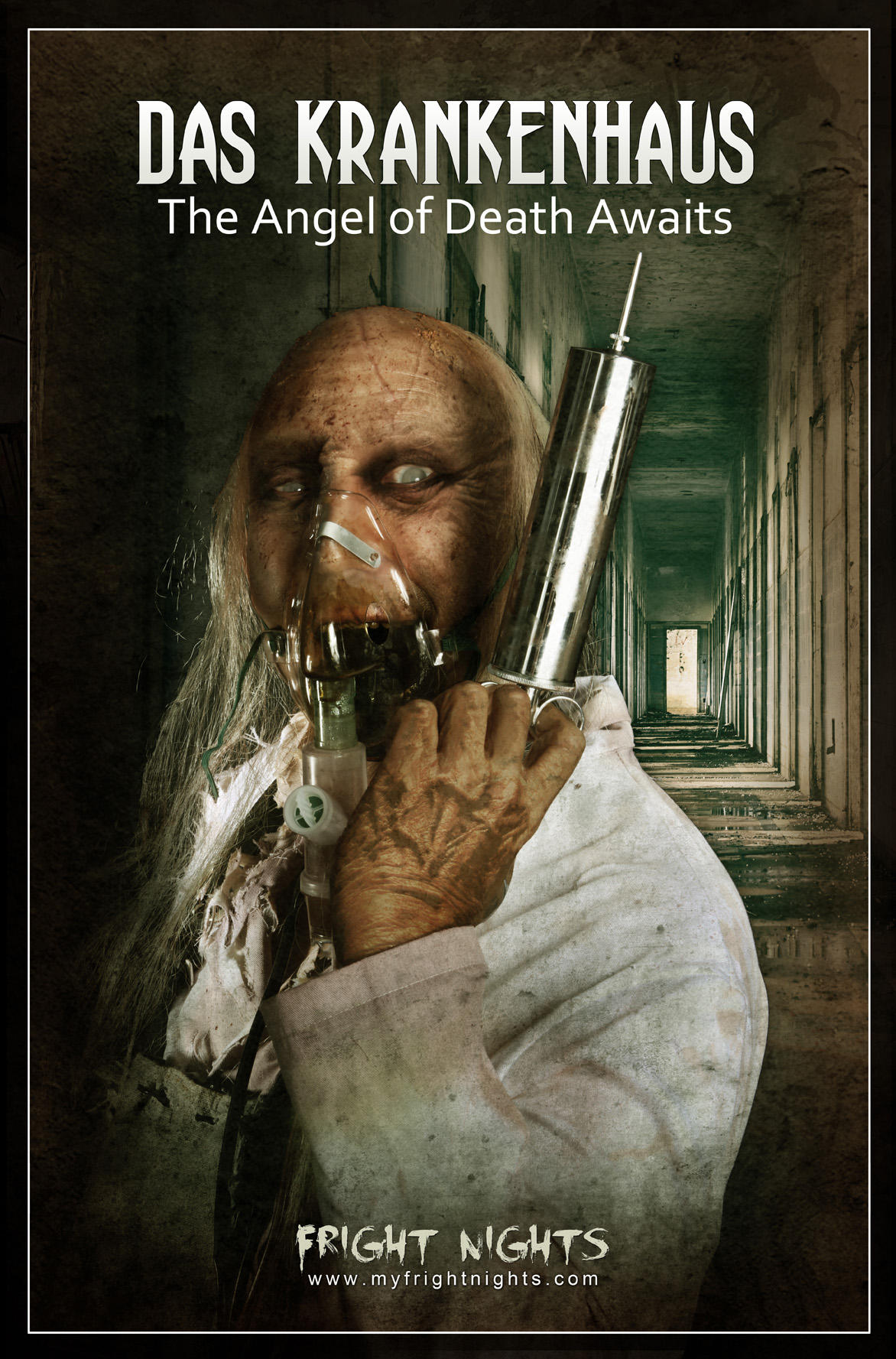 As soon as we walked in, there was a nurse covered in blood asking if we've taken our medication or if we're feeling ill. I replied "Nope!" And she shot back "Don't care!" and released a maniacal laugh. This house was full of patients on medical tables, people "in pain" screaming out for our help, and the house was a bit of a maze because we reached a dead-end twice. There was one scare that got us the most – and it was due to a girl crawling out from behind the patient dividers and following us while we had no idea she was still there. This house was incredible, not-too-scary, but definitely still creepy and very well done.
Scare Rating: 8/10
Walkability: 8/10
Quality: 10/10
The second house that we visited almost did me in. It was the "Twisted Tales" house. The short version of the description on the website is: As children some of our earliest memories are bedtime stories and nursery rhymes. Some of these fairytales were light-hearted while others, like "Ring Around the Rosie", have a dark truth behind them. This house is where the bedtime stories we were told come to life, travel to nightmare land and don't forget..it's only a dream, or, a terrifying nightmare from which you will never wake.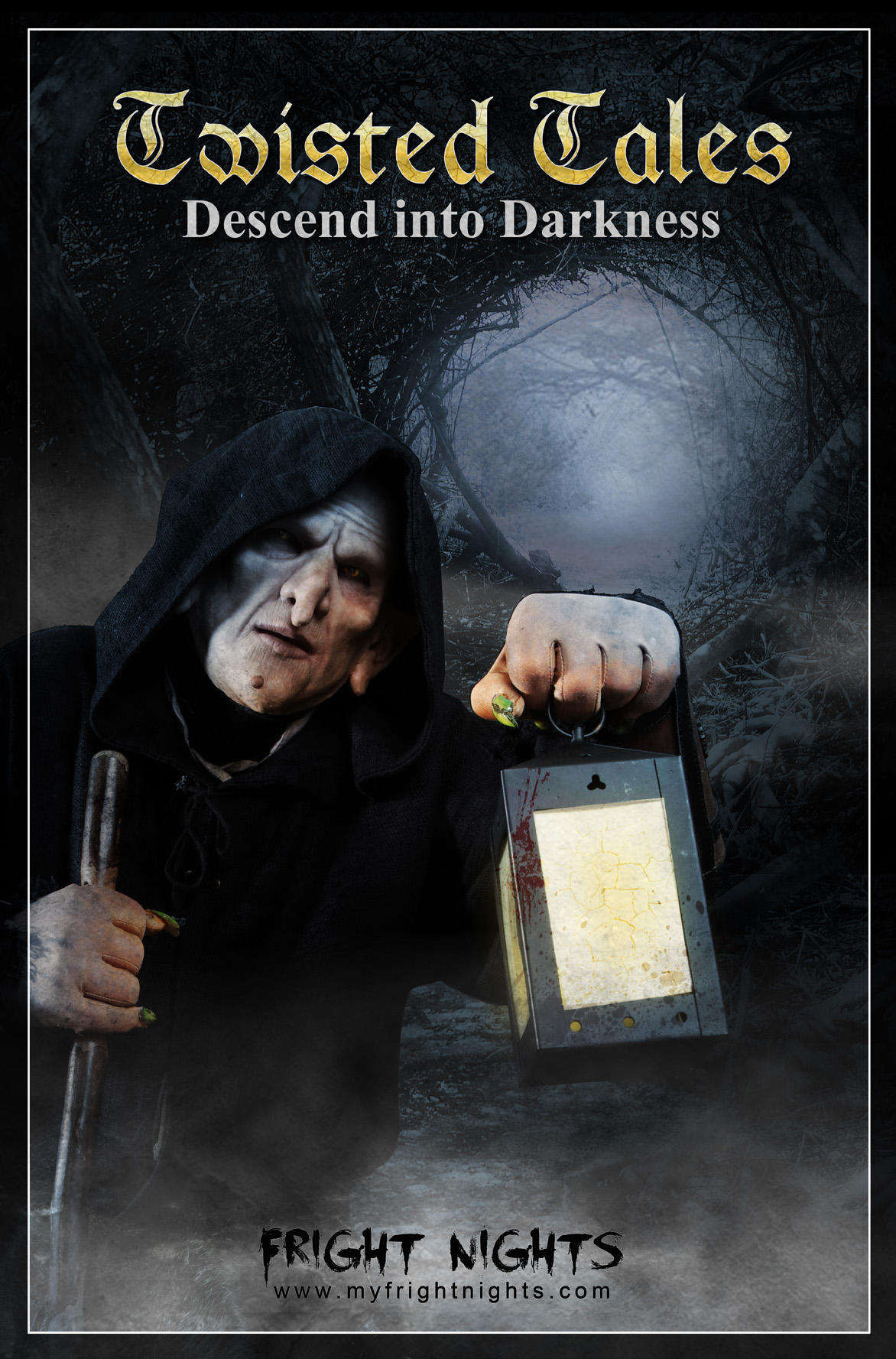 The Sandman walked us in, and the second room we entered had a man in a ghostly morphsuit that came out of a cabinet above our heads and leaned down to our face-level from above us. In the third room we entered, there was a little girl telling us there was a monster in her closet, and pointed at these giant black airbags that we had to walk through to get to the "fairytale land", I'm assuming. Once we made it through the two airbags enclosing us, there was someone in a spider costume that moved and forced you toward the Wolfman, and an older man kept telling us to go to bed because it was past our bedtime. There was once an older woman with ram horns and a staff when we walked into a room, and a definite jump scare involving a scarecrow. There were also men wielding large knives telling us to get out of their forest, and a witch doctor that followed me longer than I would've liked. The only walking problem other than the airbag hallway was the extreme use of strobe lights. This house was extremely well done, was VERY scary, and if it had lasted any longer I think my anxiety would've gone through the roof.
Scare Rating: 10/10
Walkability: 6.5/10
Quality: 9/10
After a short lemonade break in which I caught my breath and brought my heart rate down, we went into our third haunted house, which was Cuckoo's Nest 2: Wreck The Halls. Now, you know this house is going to be good because it is the ONLY house they brought back from last year. The short version of the description on the website is: After last year's murderous rampage, Misfit was deemed "unfit" to be in the general patient population. She was restrained and locked away, and order was restored to the Scharnhorst Mental Asylum ("The Cuckoo's Nest"), but not for long. Santa's Helpers, a dedicated group of criminally insane patients staged a bloody coup to free their leader, just in time for the holidays. 'Tis the season. Let the games begin!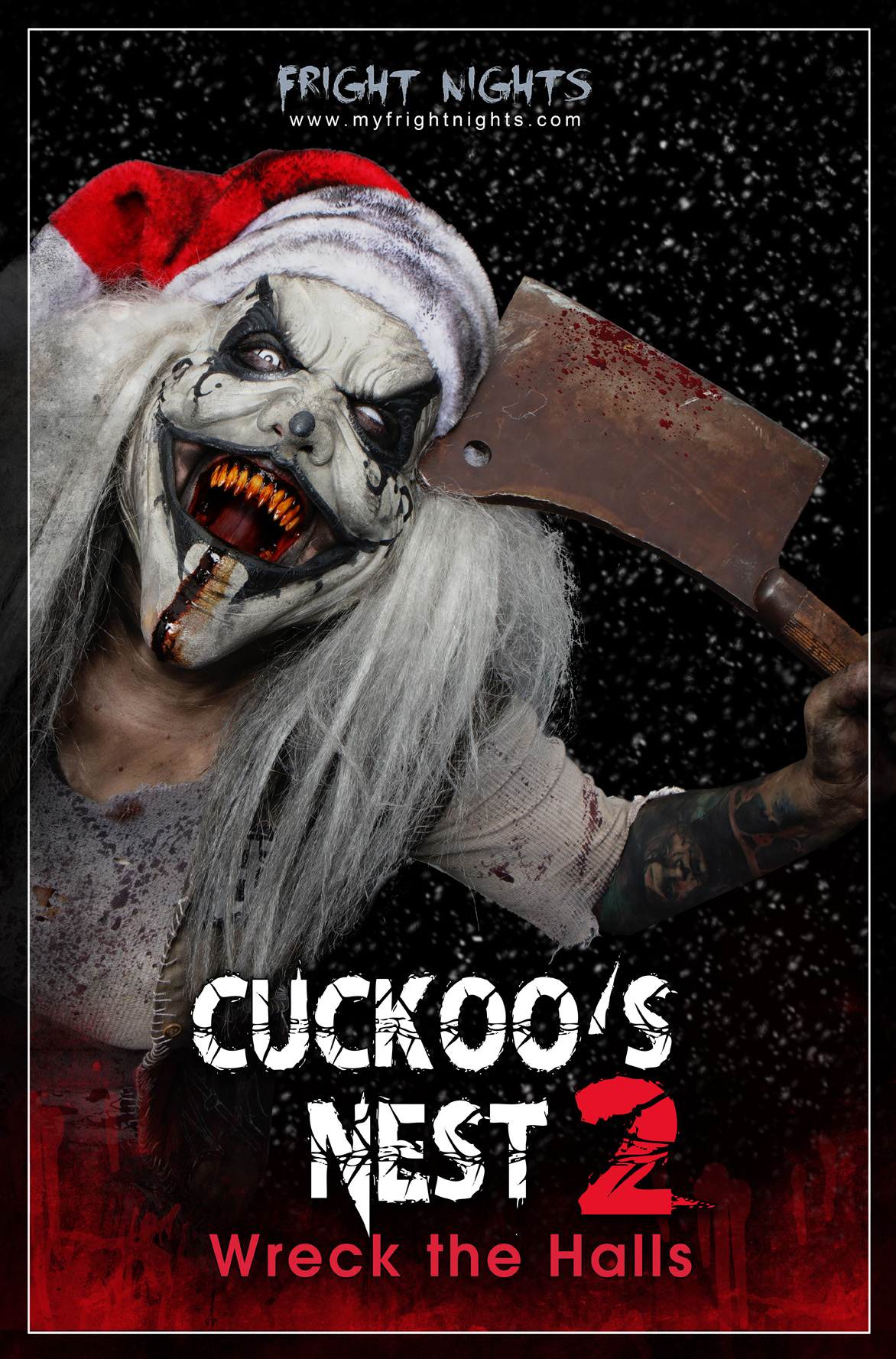 This house plays on the fear of clowns that some people have. As soon as we walked in there was a jump scare, I'm assuming by "Misfit", there were bodies hanging and call booths set up with bloody words written all over the glass. There were a bunch of "crazy" people that would follow you and scare you, and sometimes just stand there until we had no idea if they were going to move or not. They also heavily used strobe lights. One little girl really scared me because as I was entering one room I thought I was done with the haunts in the previous room, but a little girl ran up to the wall next to me and started growling and banging on the wall. But the COOLEST THING was at the end of this haunt, where the room was halfway filled with fog and they shot out a green laser, so when the scare actors ducked beneath the laser light and into the fog, we could no longer see them, but they could see us (you can see it in the compilation video below). It was REALLY cool. The funniest thing that happened all night was when one of my friends moved the rubber curtains to enter the next room and accidentally ran into a short scare actor (my friend is really tall), and the scare actor looked up at him and said, "Well you look like a tall glass of cold water!" This house was extremely well done, the characters were hilarious when speaking to us, just the right amount of scary, and pretty easy to walk through.
Scare Rating: 9/10
Walkability: 9/10
Quality: 10/10
Overall, my Fright Nights experience was definitely one for the books. I didn't have any panic attacks, no zombies got uncomfortably close to my face, I was just the right amount of afraid, and the quality of the houses was really impressive. I'll absolutely be returning next year, if not again during the next couple of weeks!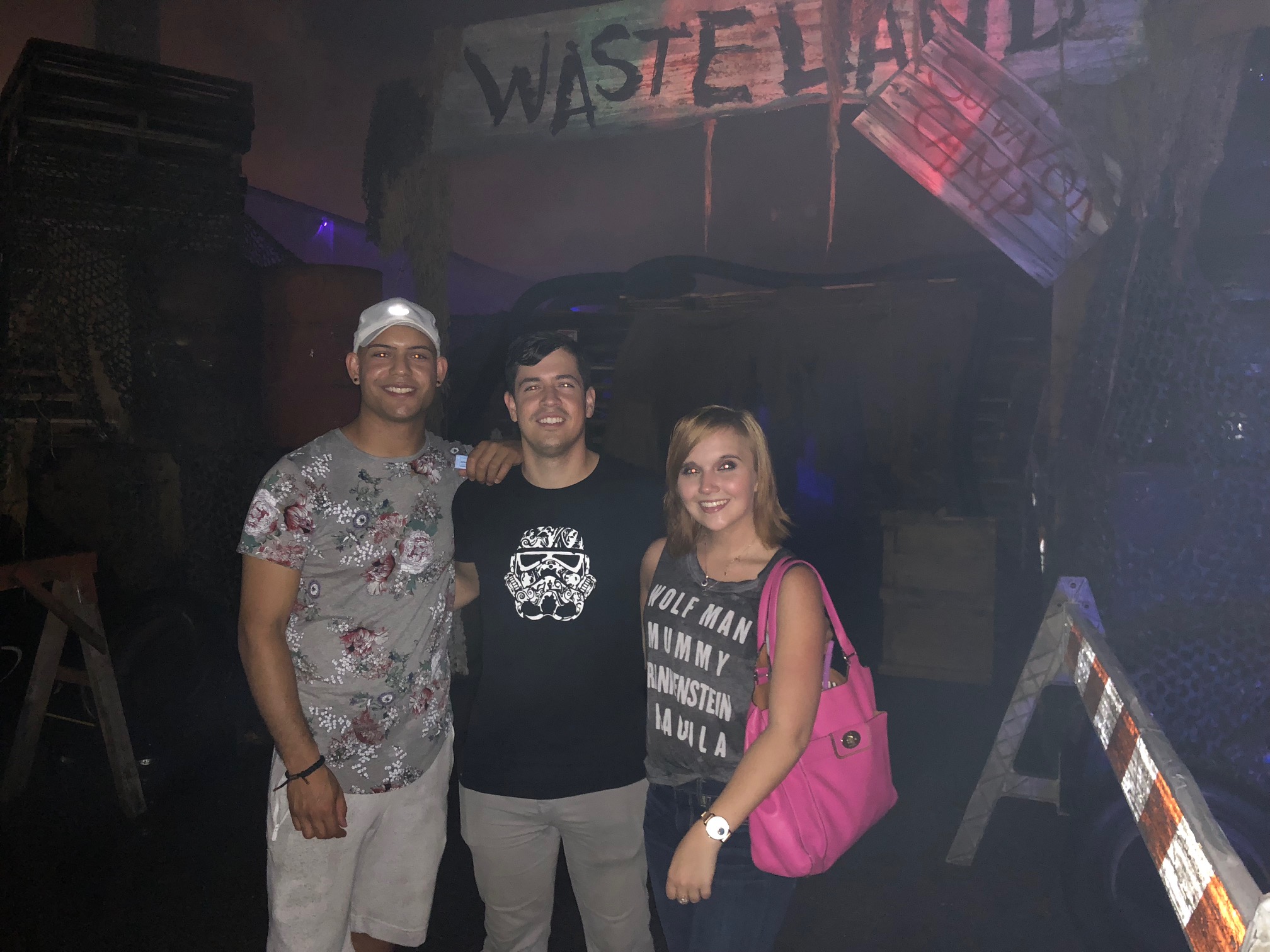 Visit their website here: http://www.myfrightnights.com/
IG: www.instagram.com/myfrightnights
Facebook: https://www.facebook.com/FrightnightsSFF/
Youtube: https://www.youtube.com/user/frightnightssff