We (especially those of us in Florida) have a hard time with fall fashion because the weather is so lovely all the time – so here's an easy guide on how to keep your Summer wardrobe around when "Fall" begins!
1. Carry your Summer tote around.
Who says we have to stop carrying our cute Summer purse and switch to a "camel" colored bag? Keep that bright bag around!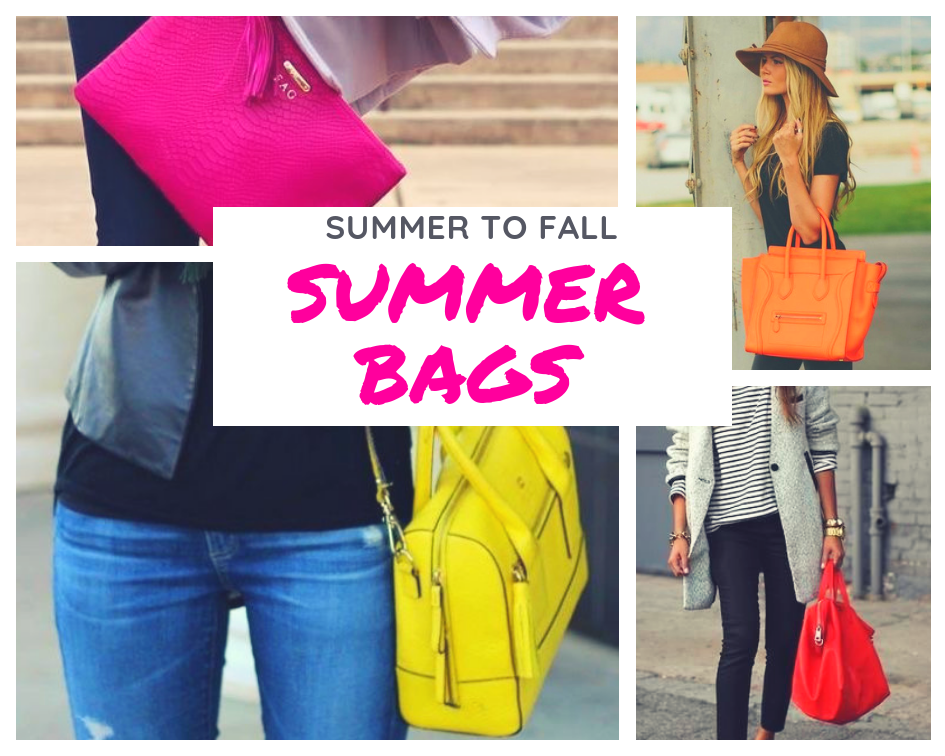 2. Add tights to Summer dresses!
It's a cute way to add color, texture, or patterns (and a little extra warmth) to your favorite summer dresses!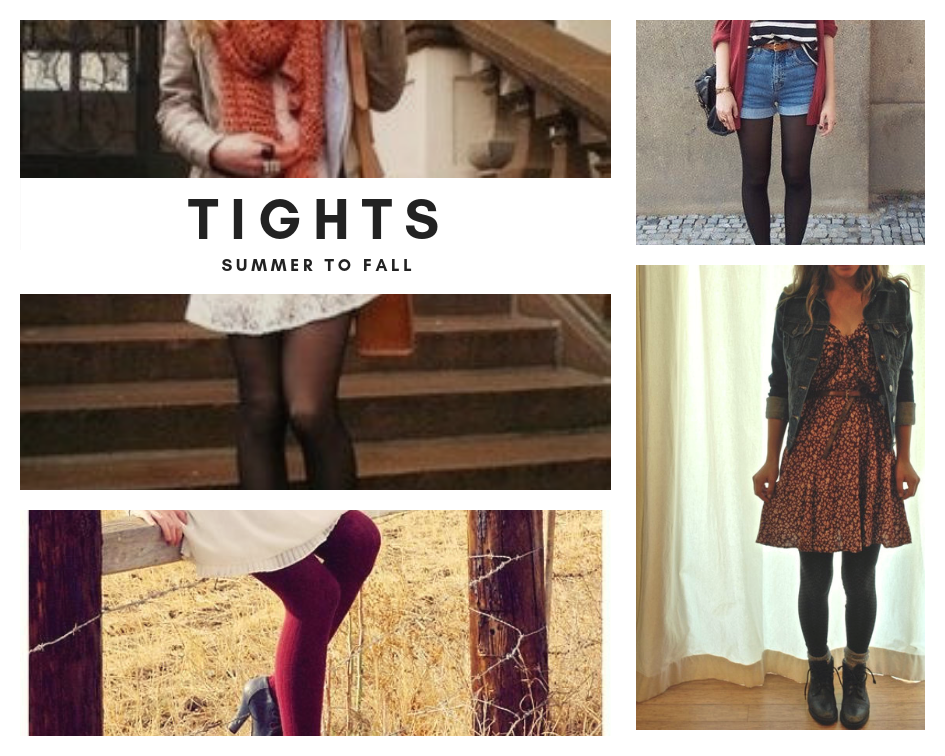 3. Don't stop wearing sandals.
Well, until it gets *too* cold. Sandals are great to keep your Summer look going while also enjoying a slightly cooler climate.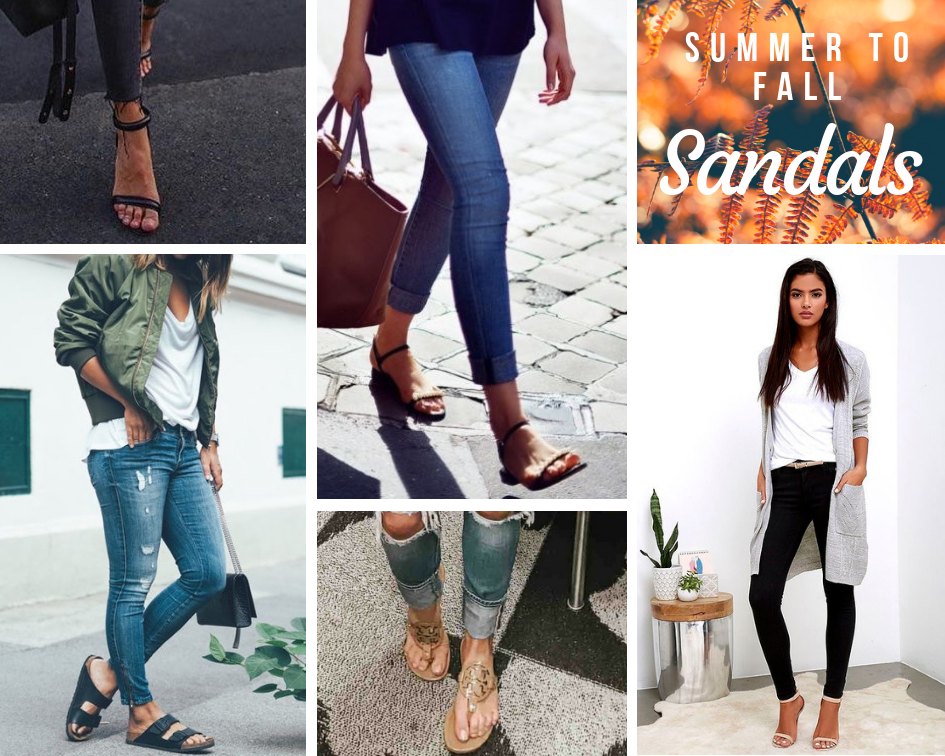 4. Add a fun, lightweight scarf. 
Something cotton, silk, or a knit blend – just so you don't get too hot but you can feel like it's fall!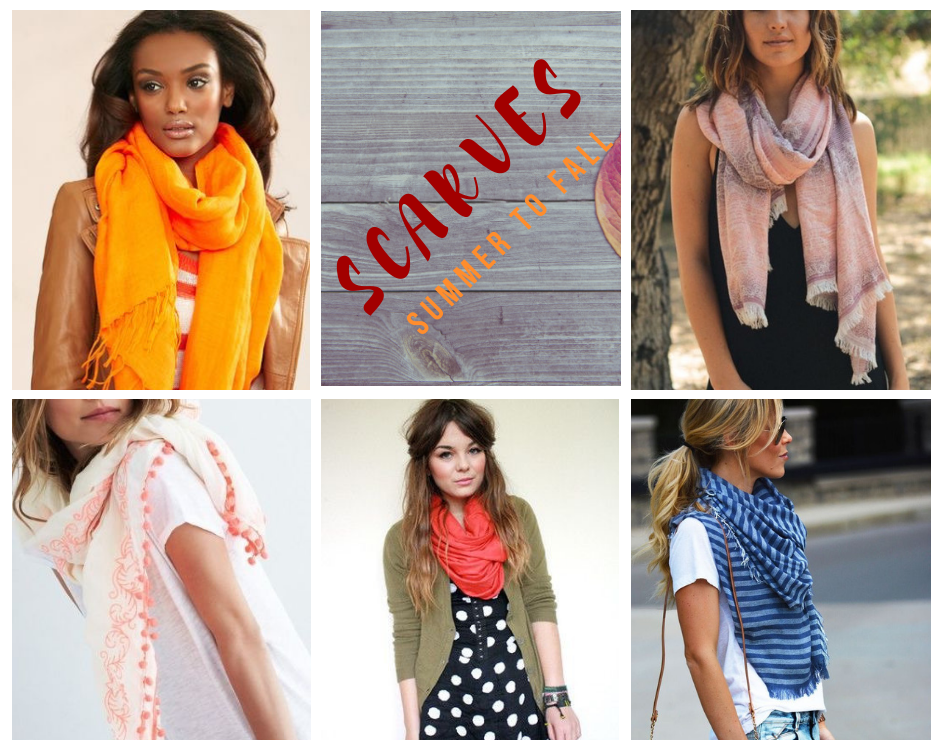 5. Start wearing fall hues!
Jewel tones, earth tones – maroon, burgundy, red, orange, rust, mustard yellow… Start incorporating them into your daily outfits without changing too much of your Summer look!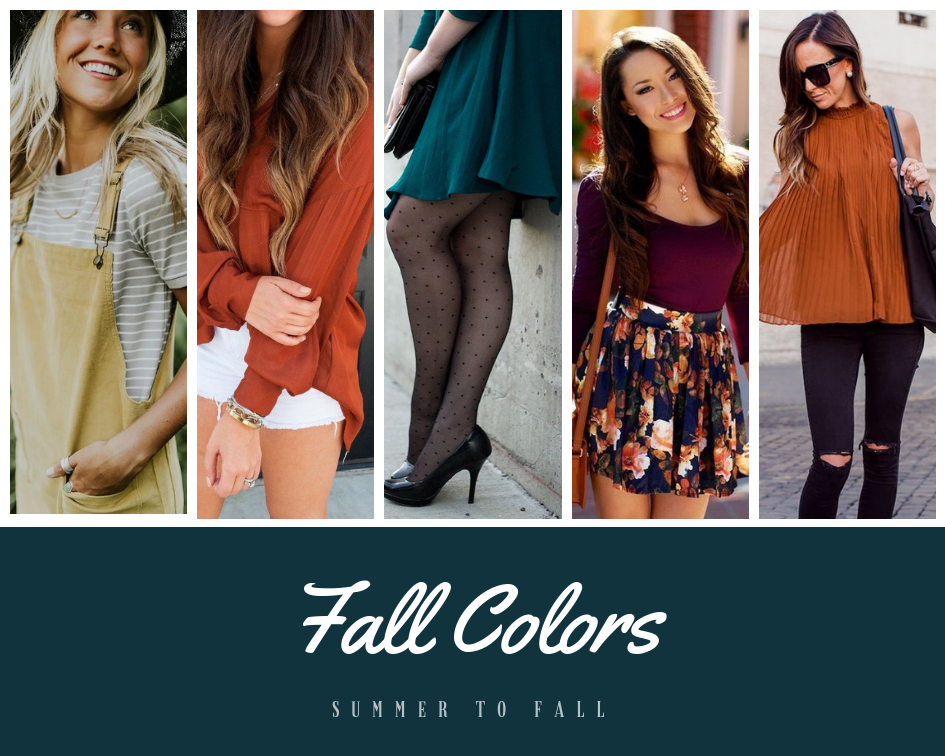 6. Layer, but show some skin!
You don't have to wear tights with your skirt or dress – make sure to layer up but still show a little skin!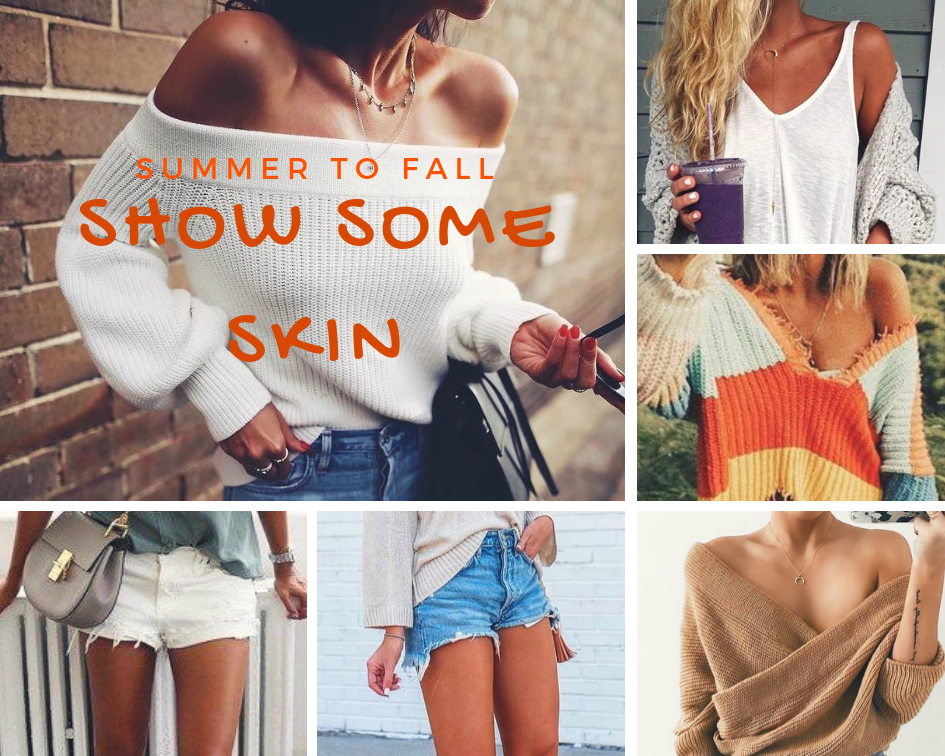 7. Put a blazer or a cardigan over your favorite Summer dress or Summer outfit.
It's a nice way to warm up your favorite dress, and add a bit of chic Fall fashion to your look!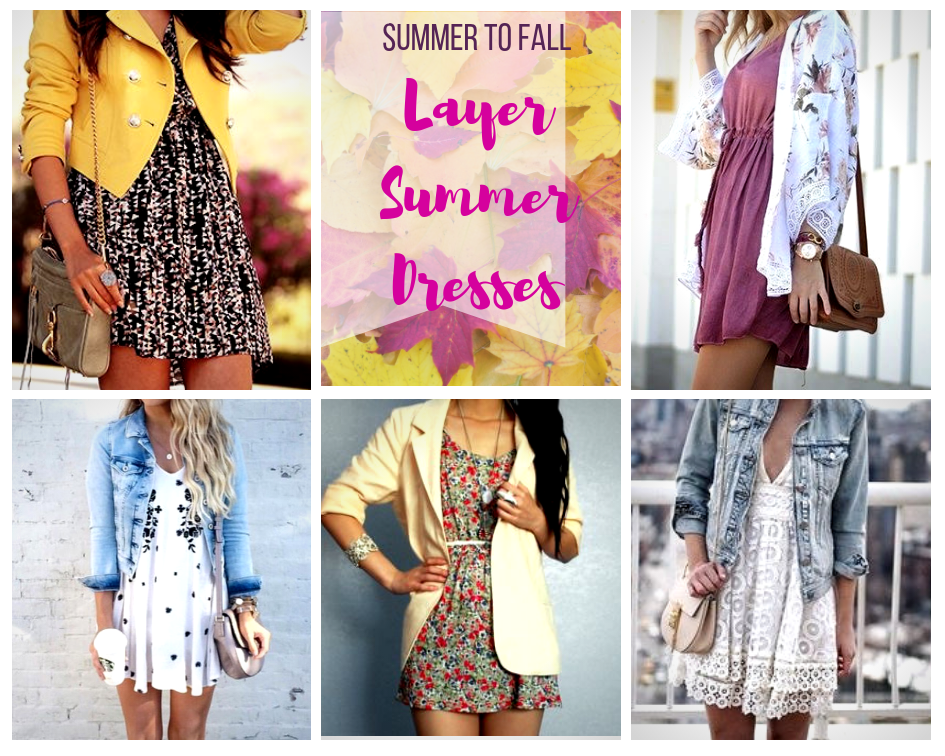 8. Get a neutral purse that can last you all year 'round!
If you don't want your pop of color to be your purse – get a nice brown, cream, black, or gray purse that you can use all year long.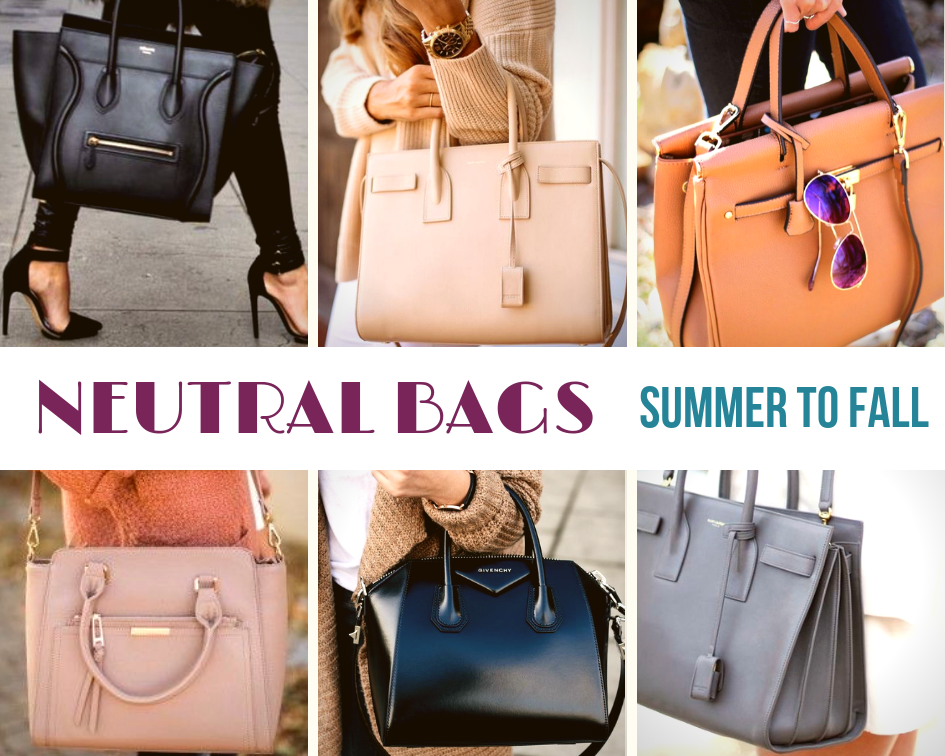 9. Wear universal colors.
These are colors that can be worn in both Summer and Fall (and maybe even Winter). Red, Navy, Olive, Orange, Yellow, Cream, White…
10. Layer "long over lean".
This means that you layer a long cardigan over skinny jeans or a tight dress!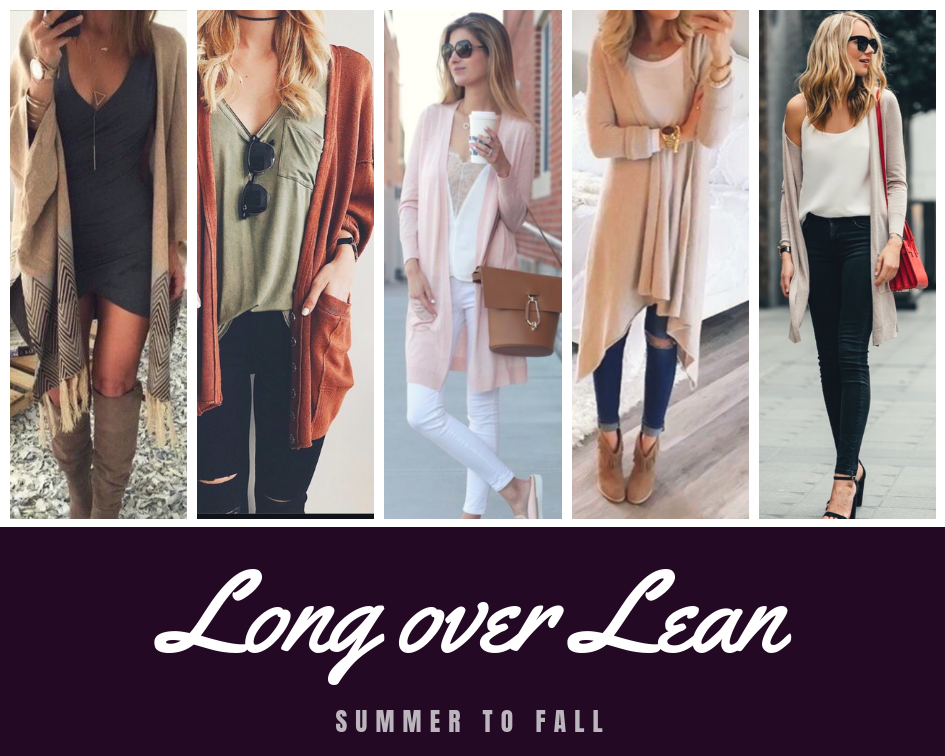 11. Add a statement jacket to your closet.
It'll instantly transform your favorite Summer outfit to chic Fall fashion, and you'll stand out from everybody else in sweaters!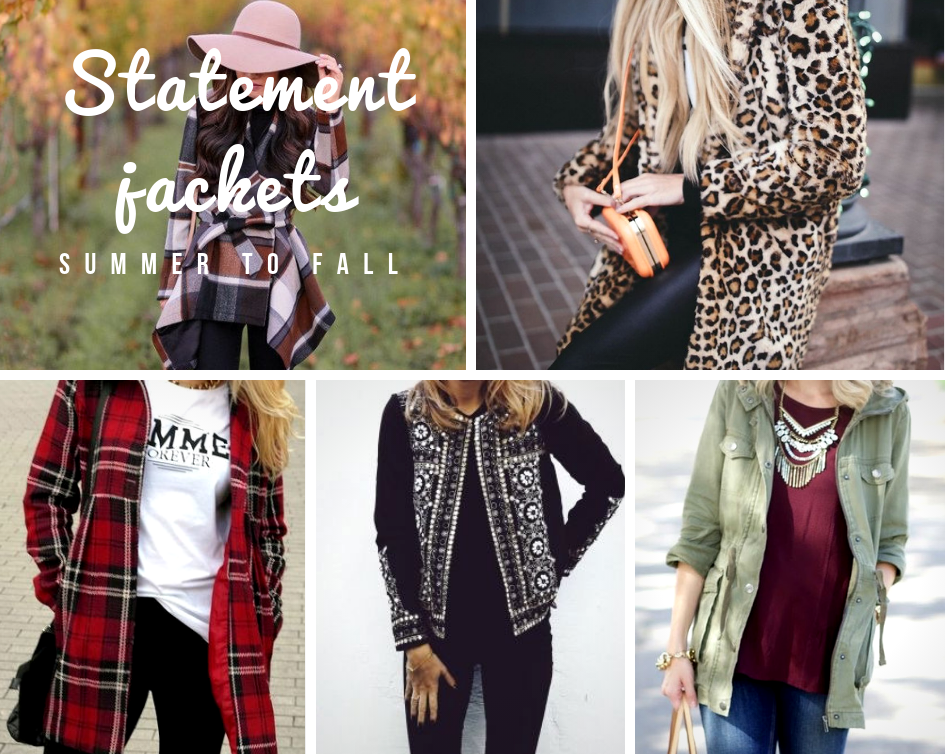 12. Invest in a FEW statement jackets.
Military style, a leather moto jacket, a well-cut blazer, or a classic trench coat/peacoat are perfect for styling a Fall look from Summer clothes!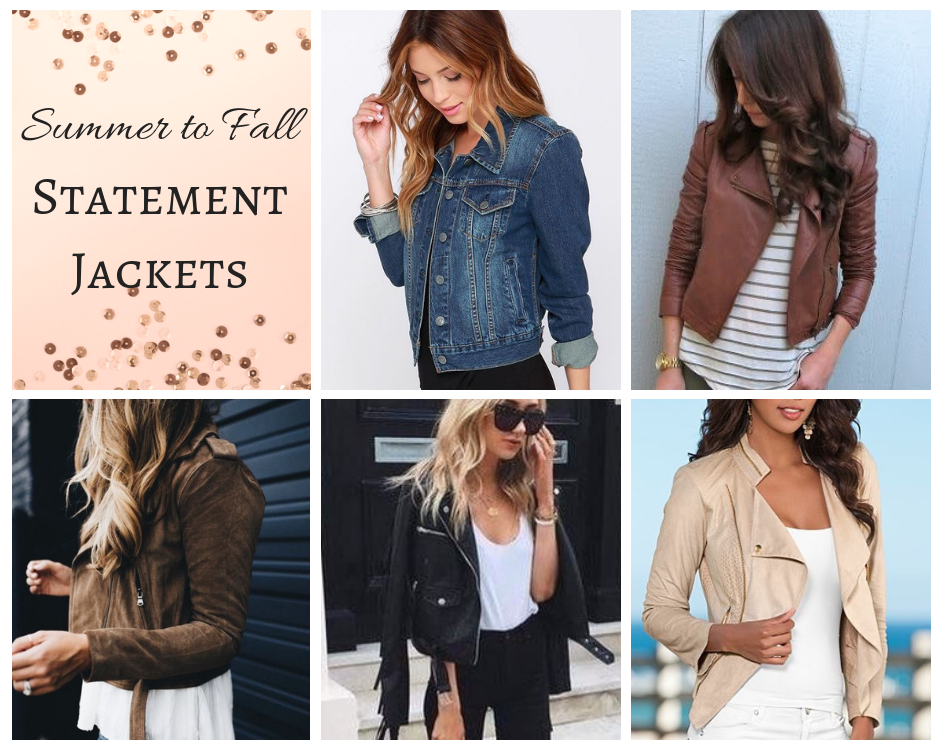 13. Military Jackets
Chalk it up to patriotism, classic Americana making a comeback, or the challenge to make camo look chic – but this trend is all the rage right now and I'm loving it.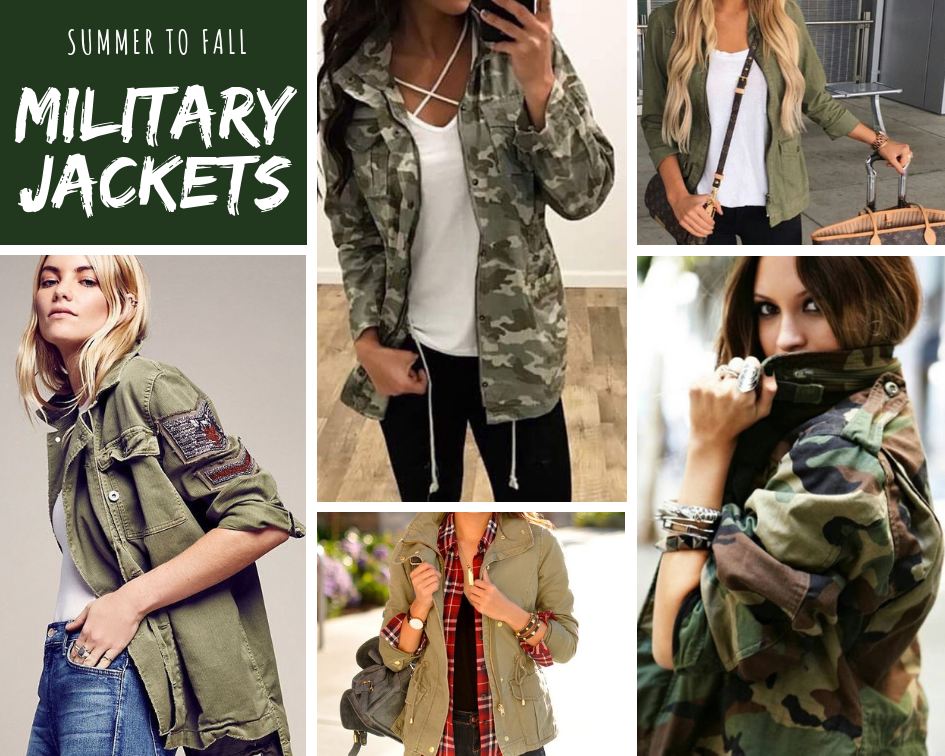 14. Moto Jackets
A cropped leather moto jacket can make you instantly look like a street style expert. Have fun with colorful moto jackets, metallic moto jackets, or the classic black moto jacket.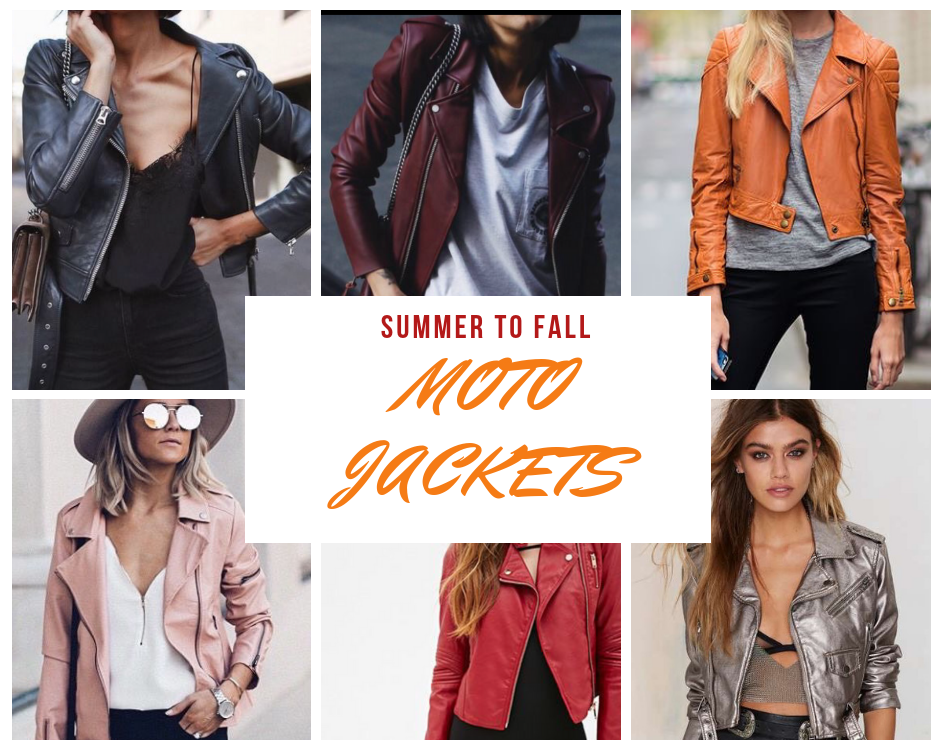 15. Blazers
Blazers are a classic – and when done right – they can look like an adorable Fall outfit for a boss babe!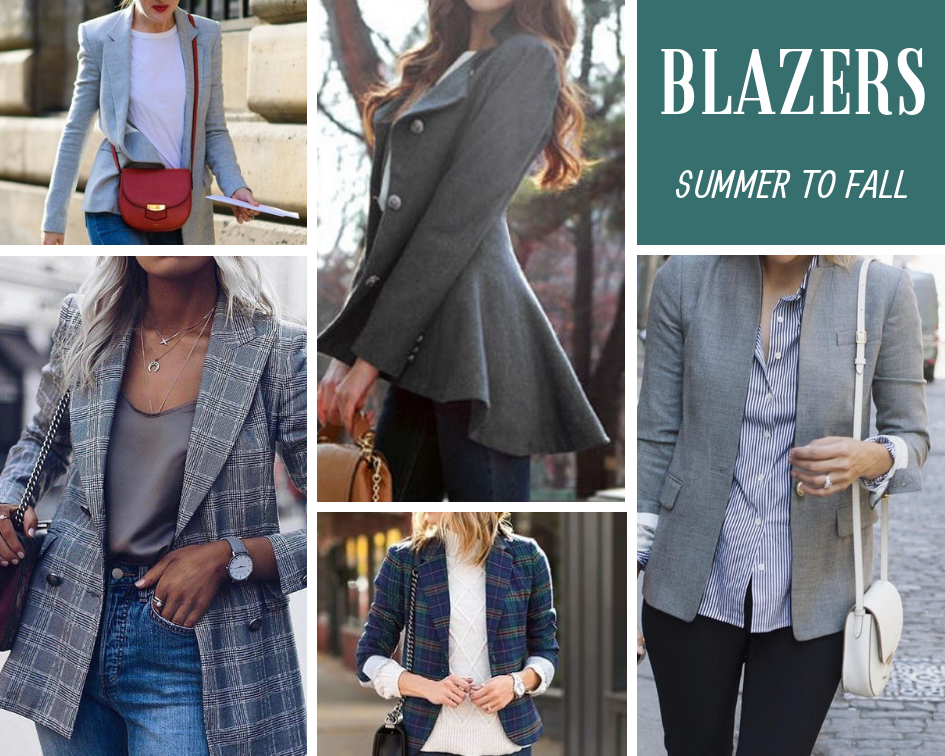 16. Trench Coats/Peacoats
These are also a classic, but once you play around with the colorful trench coats or peacoats, I think it's a must for any fashionista's closet.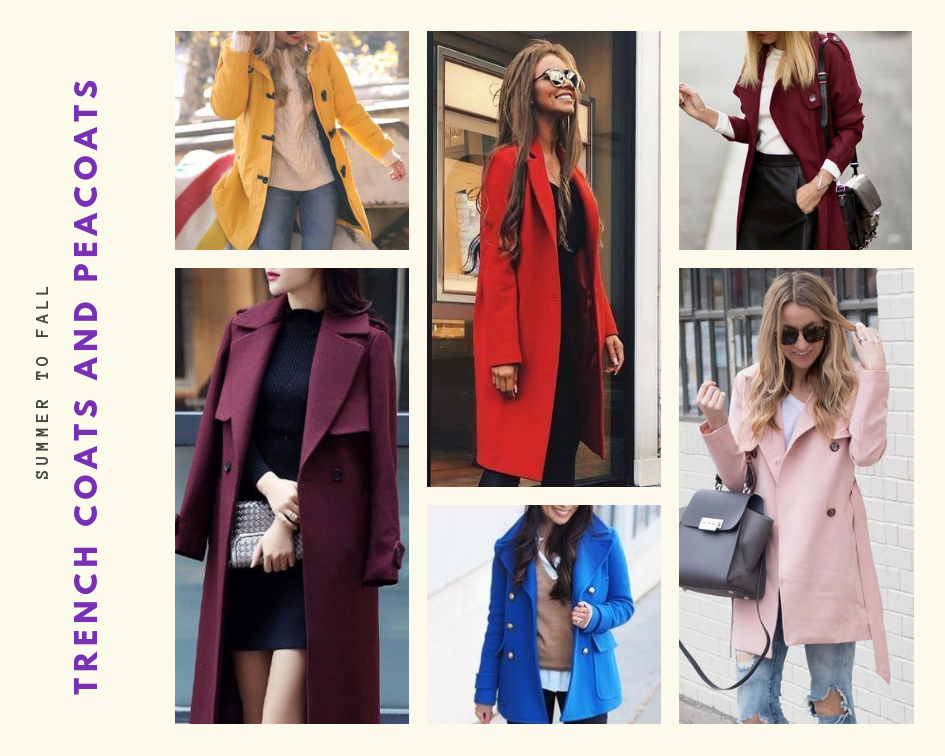 17. Add deeper colors into your Summer wardrobe.
Add deep purple to your lavender outfit, add burgundy to your red outfits, it's easy to add in color to your already bright or pastel wardrobe. 
18. Add a pop of Fall color!
Green jeans, a yellow purse, burgundy lips, a plum scarf – even just a little pop of color can help you get in the fall spirit!
19. Wear "Winter White".
So, we're not supposed to wear white after Labor Day, so there's a slightly warmer version of white called "winter white" which is gorgeous with jewel tones!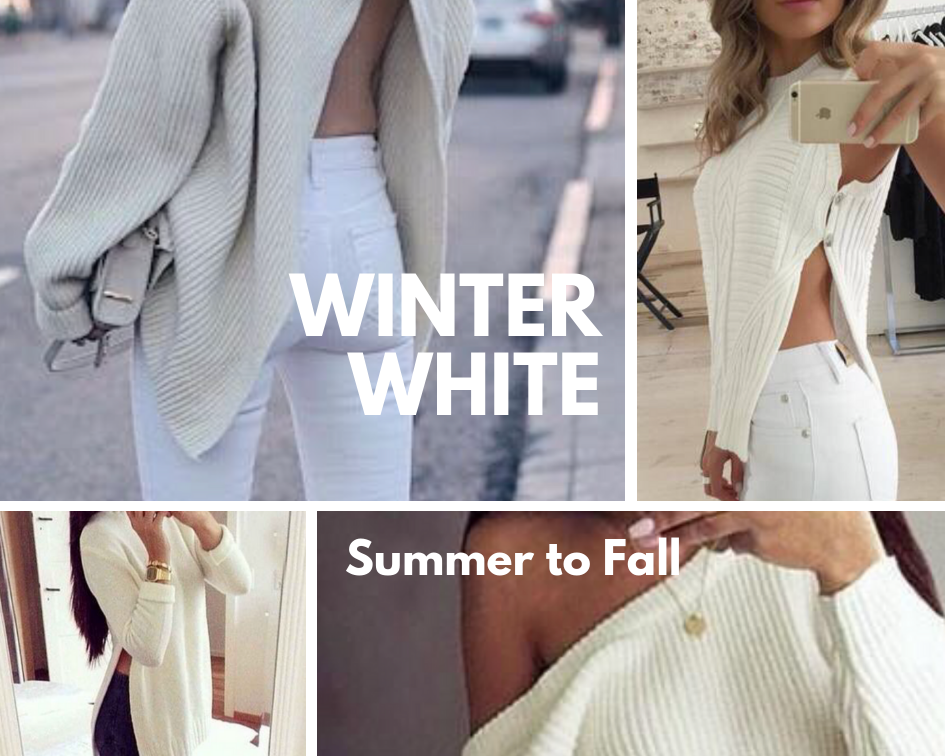 20. Throw on some colored tights!
They add another dimension to your favorite Summer floral dress with a bit of extra warmth!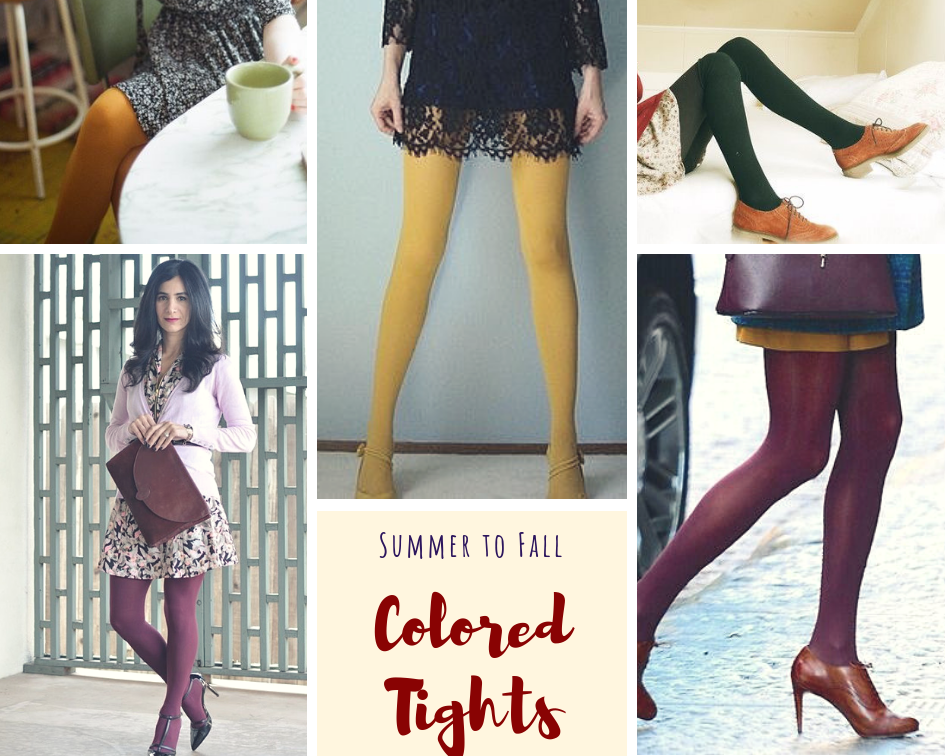 Fall = Boots Season.
21. Riding Boots
Riding Boots are so gorgeous and they feel like just the right amount of country and Fall combined to get you in the Fall spirit!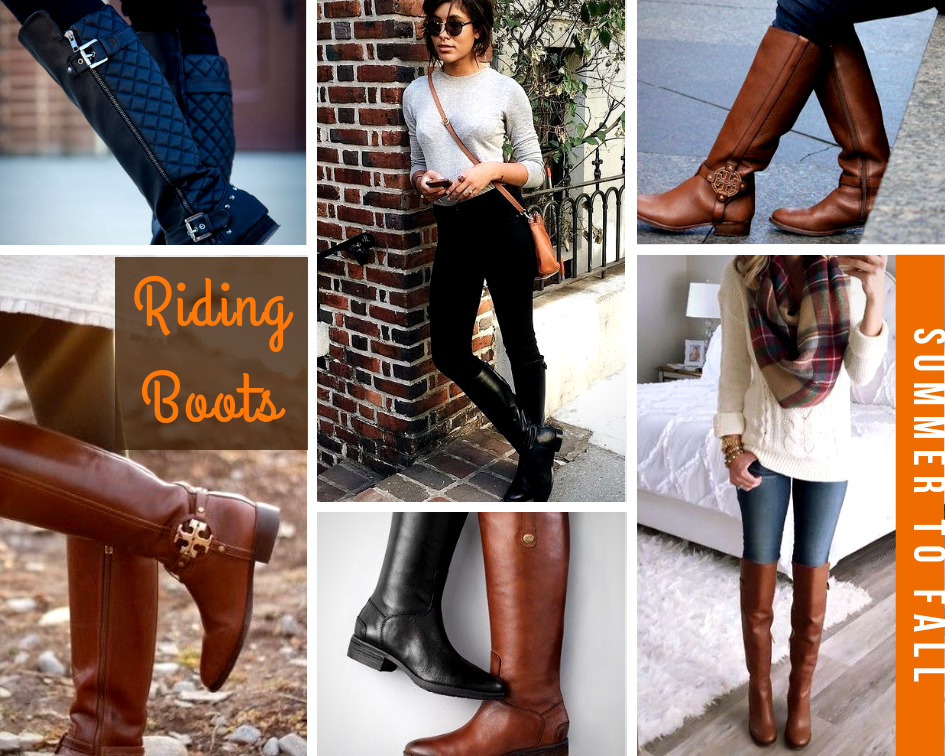 22. High-Calf Boots
These are also called "Knee High" boots, but they're really cute and aren't super sexy like thigh highs but provide more warmth than your ankle booties.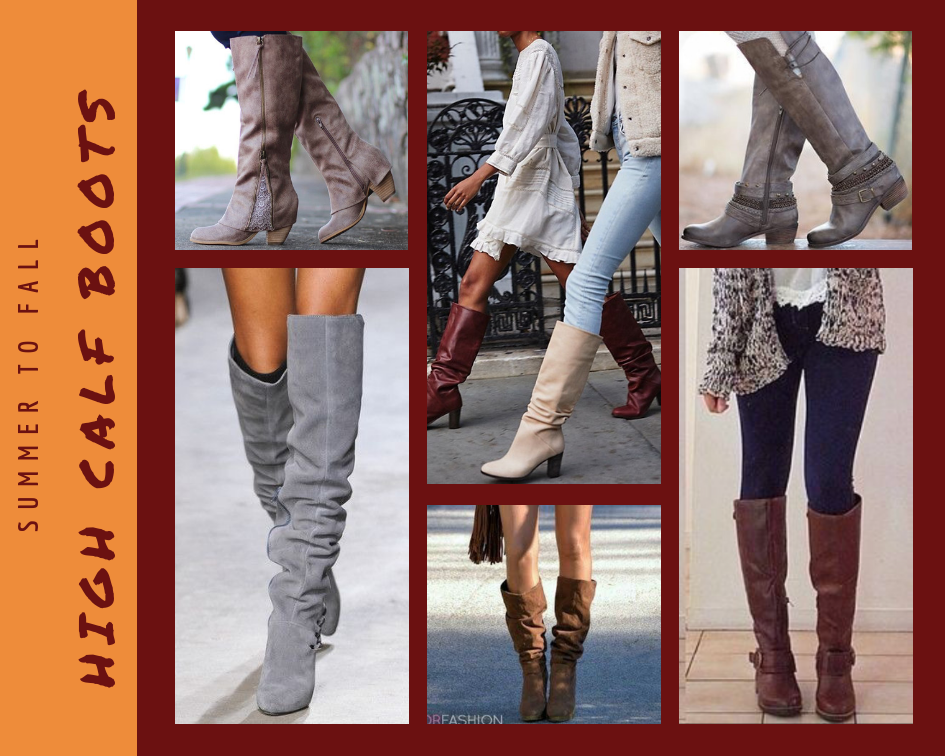 23. Thigh High Boots
Thigh High Boots are SO in style right now, and they're sexy as hell! I'm only 5'1″. I got mine from Amazon and they fit perfectly, they elongate my legs, and I can stand in them all night long!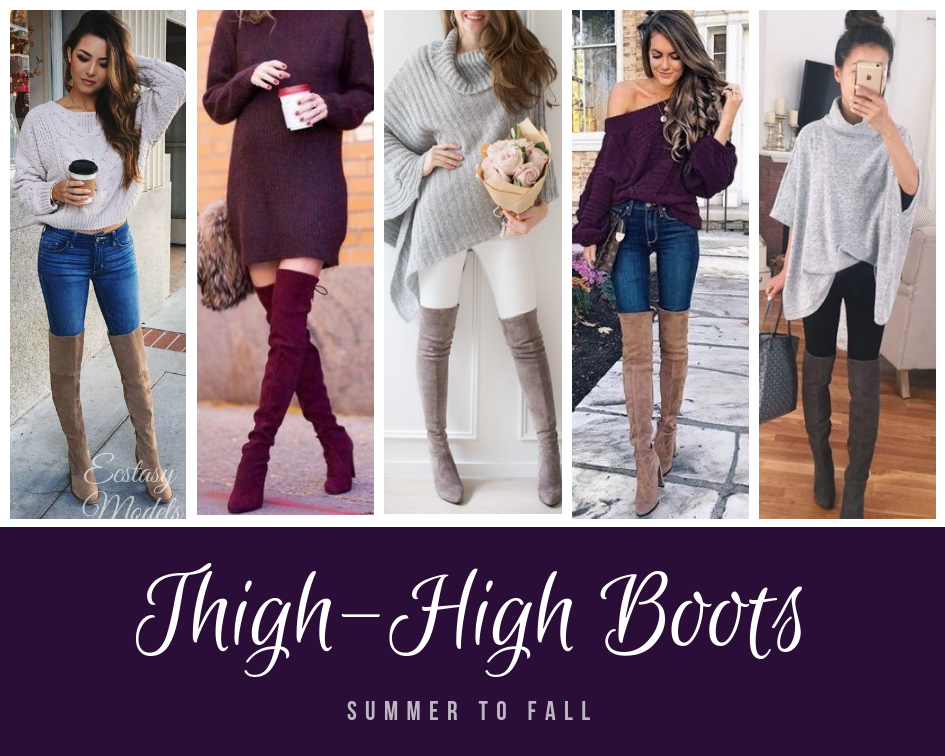 24. Peep-Toe Boots
These are basically a cross between a sandal and a boot, and it's perfect for that warm Fall season!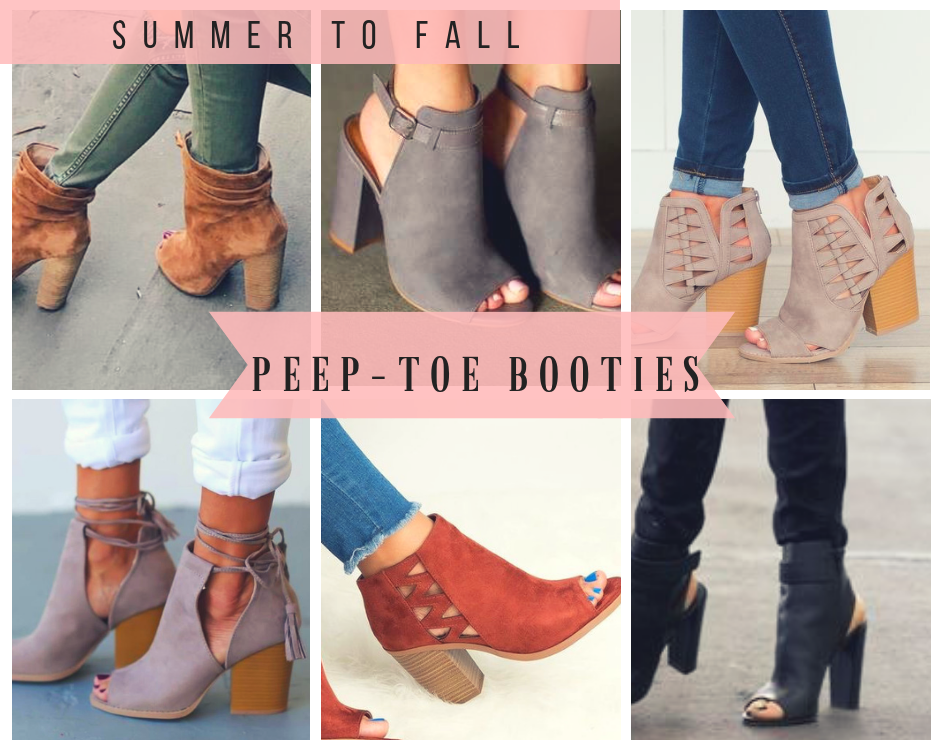 25. Ankle Boots
More commonly referred to as "booties", these short boots add a quick Fall feeling to your summer outfit when paired with a lightweight sweater!
26. Combat Boots
Again, this goes along with the whole Military style trend right now, but if you have ankle problems or are simply looking for a comfortable and stylish boot, invest in some combat boots! Pair them with a tank top and jeans!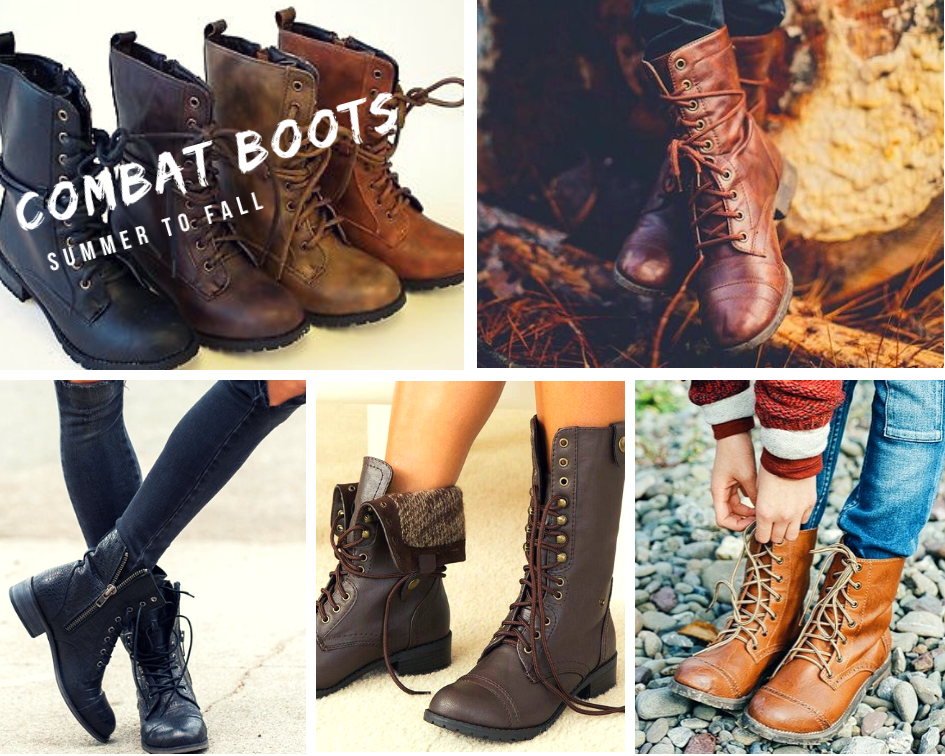 27. Stiletto Boots
Stiletto Boots are glamorous and I can guarantee you'll be receiving compliments all night long!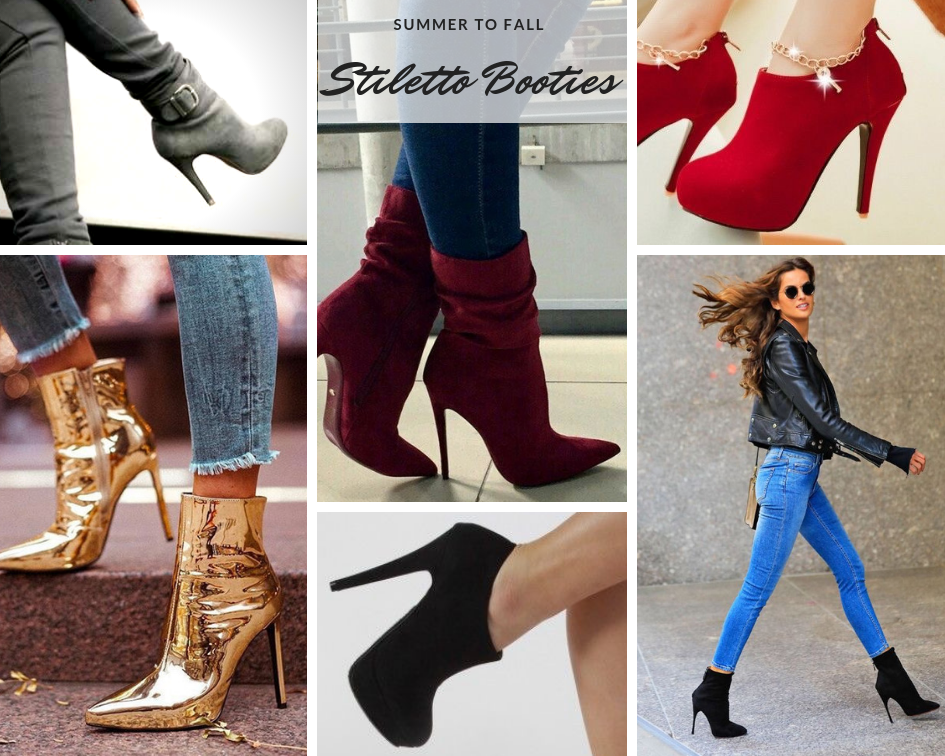 28. Wear knits over silk and lace tops!
It's a gorgeous mix of fabrics that won't make you too hot but provides some warmth.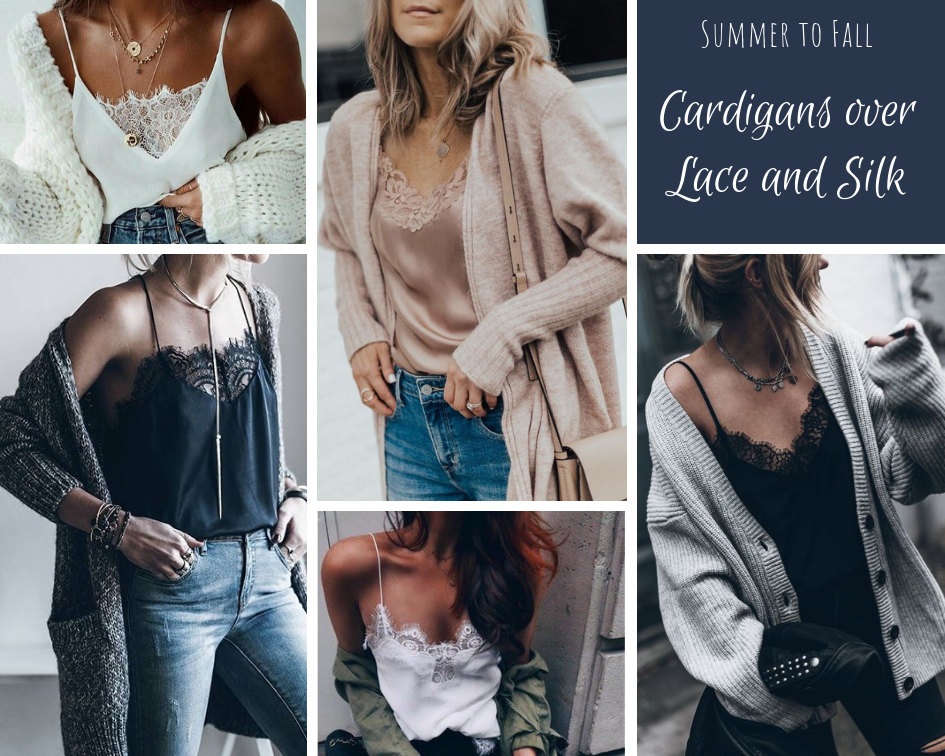 29. Pair a sweater and jeans with sandals!
It's totally fine to wear a sweater and jeans with sandals – it's actually really cute!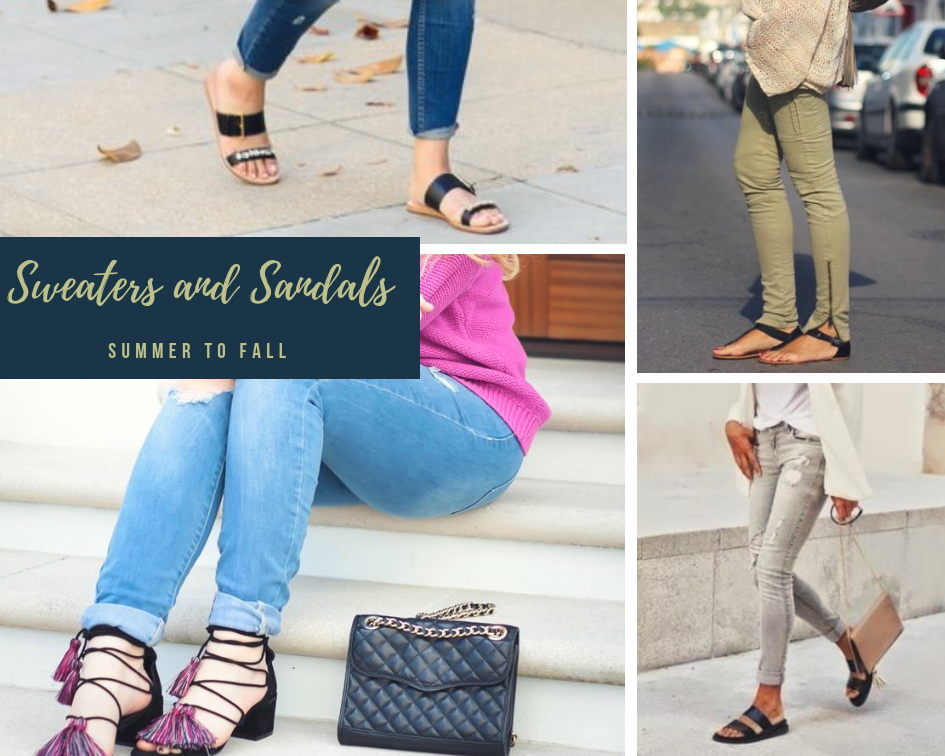 30. Beach-Inspired Fall Outfits
For those of us in Florida, we know how hot it is during the day, but that it CAN get cold when you're by the water. Check out these lightweight sweaters, lightweight pants, cover-ups, and lounge/beachwear!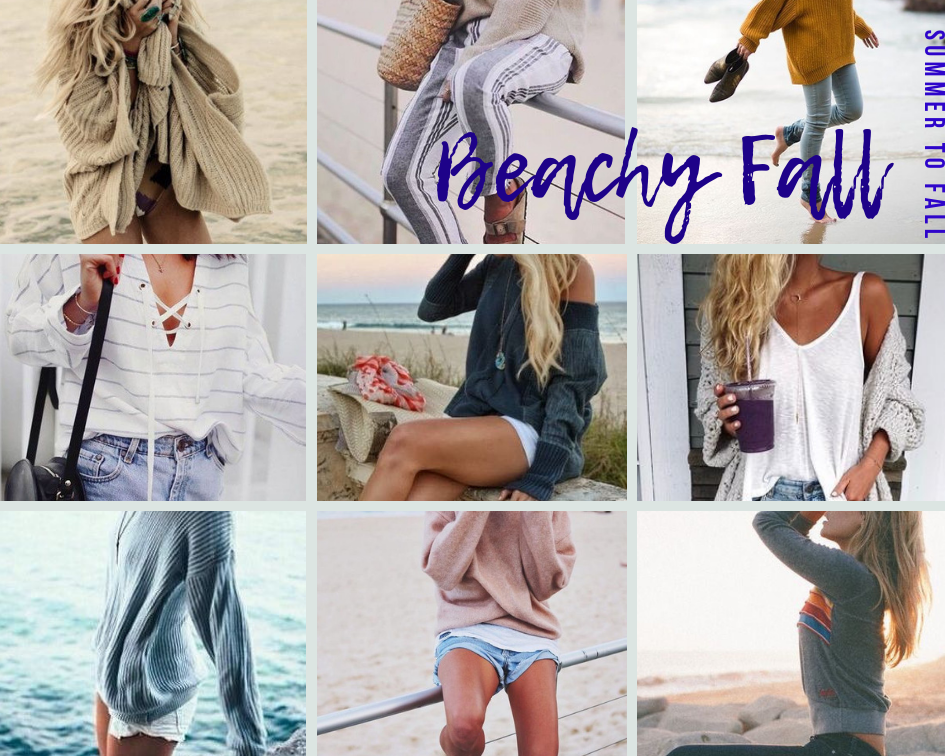 31. Keep your fringe fashion items around!
Fringe is usually a Summer look, so don't put your fringe away when you see the leaves beginning to change! Fall is the perfect time to wear brown and black suede and leather, so why not keep your fringe around for another few months?
32. Add Plaid.
Whether it be in the form of a scarf, a lightweight button-up shirt, or in a flannel – plaid SCREAMS Fall!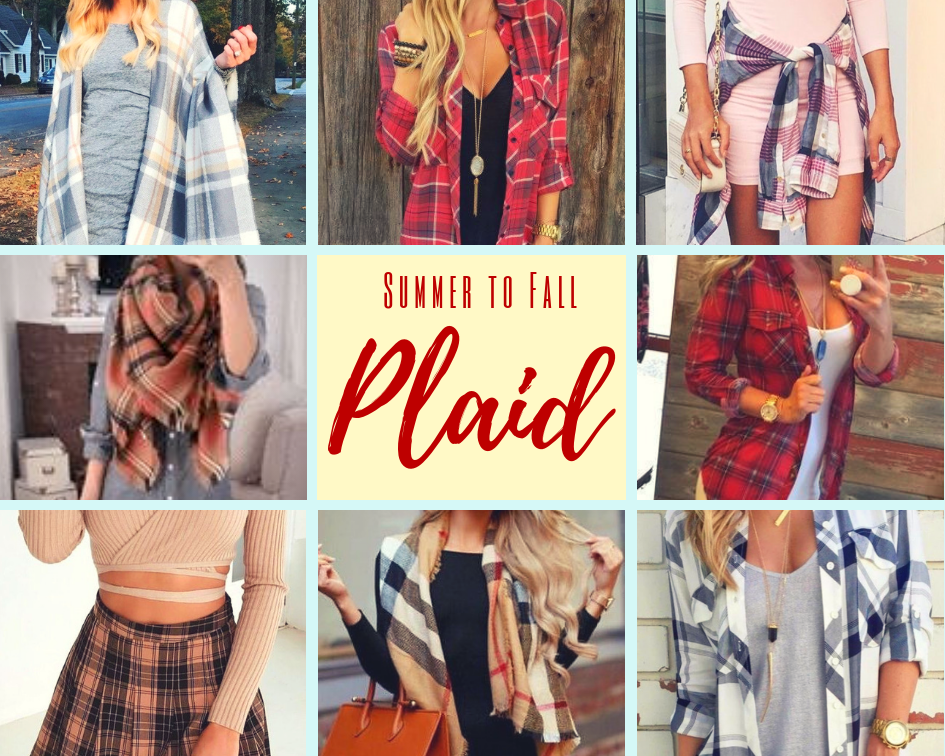 33. Textured Skirts
From suede to corduroy, textured skirts are a lovely way to show off your legs while incorporating Fall fashion into your wardrobe!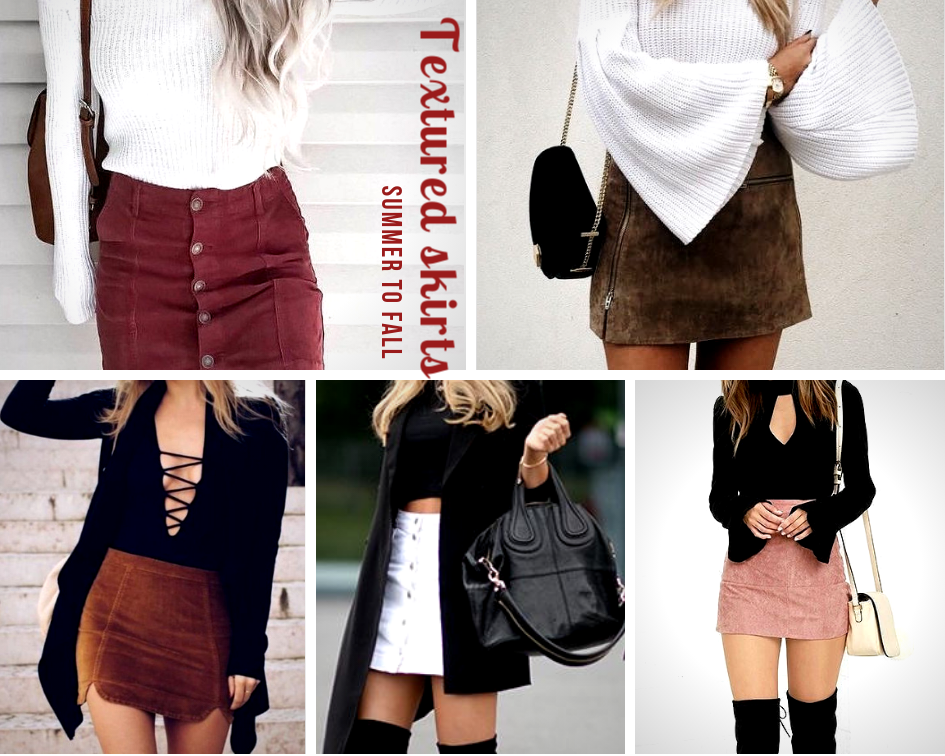 34. Belts
Patterned, sparkly, colored, woven – any type of belt will give your body a more defined shape and are a super cute accessory to add to your look!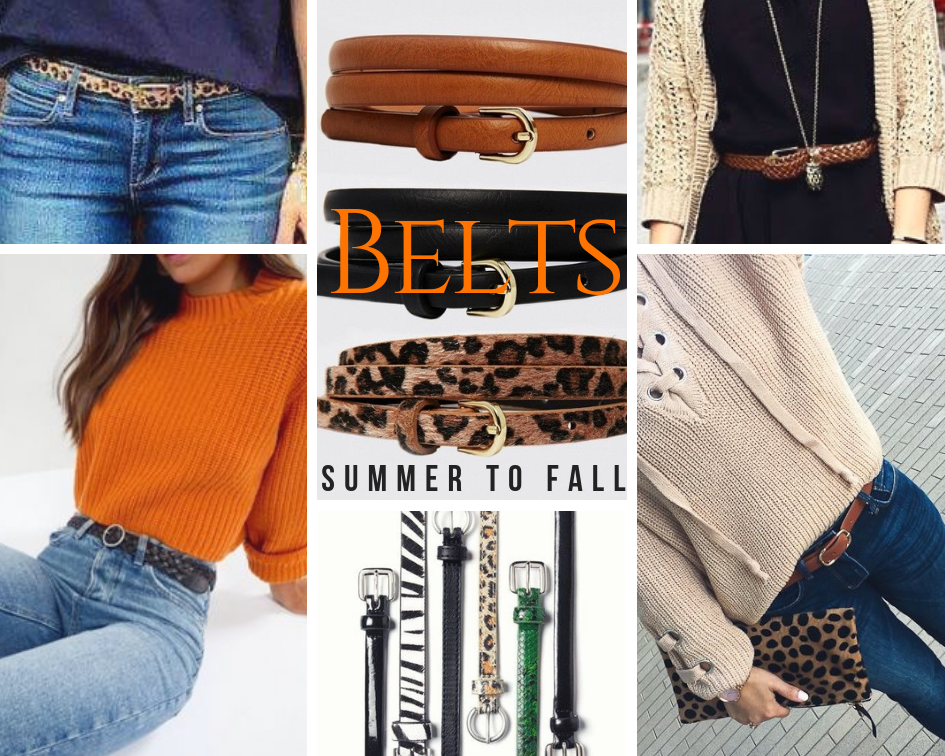 35. Wide-Brim Hats
These hats are simply the cutest.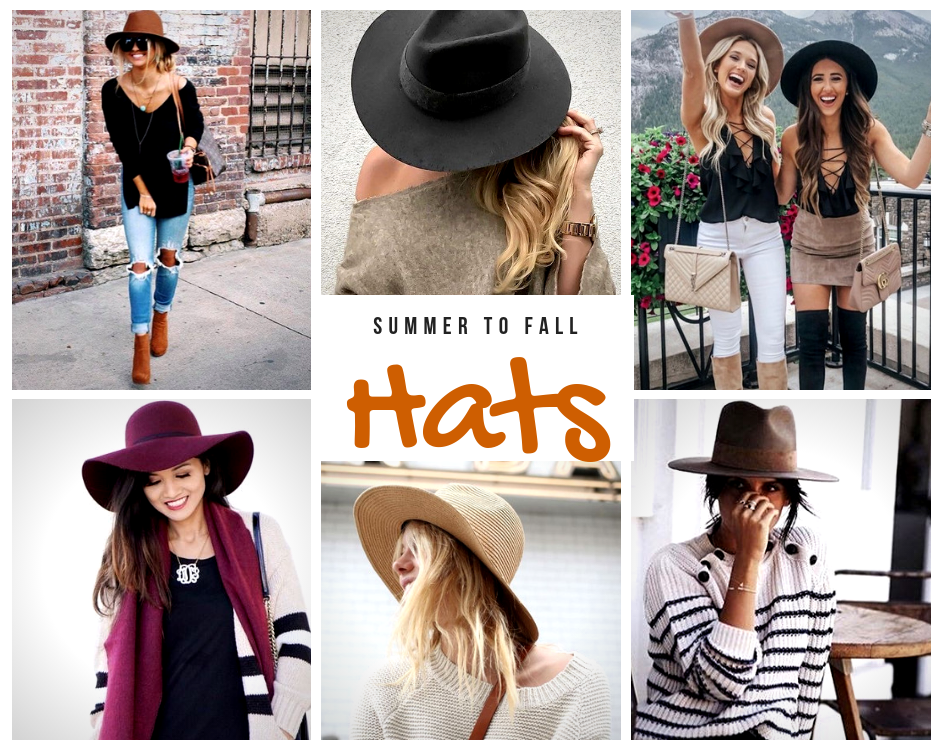 36. Baseball Caps
Baseball Caps aren't just for boys – and they aren't just for when you're being athletic. You can totally throw on a baseball cap for a casual-chic look!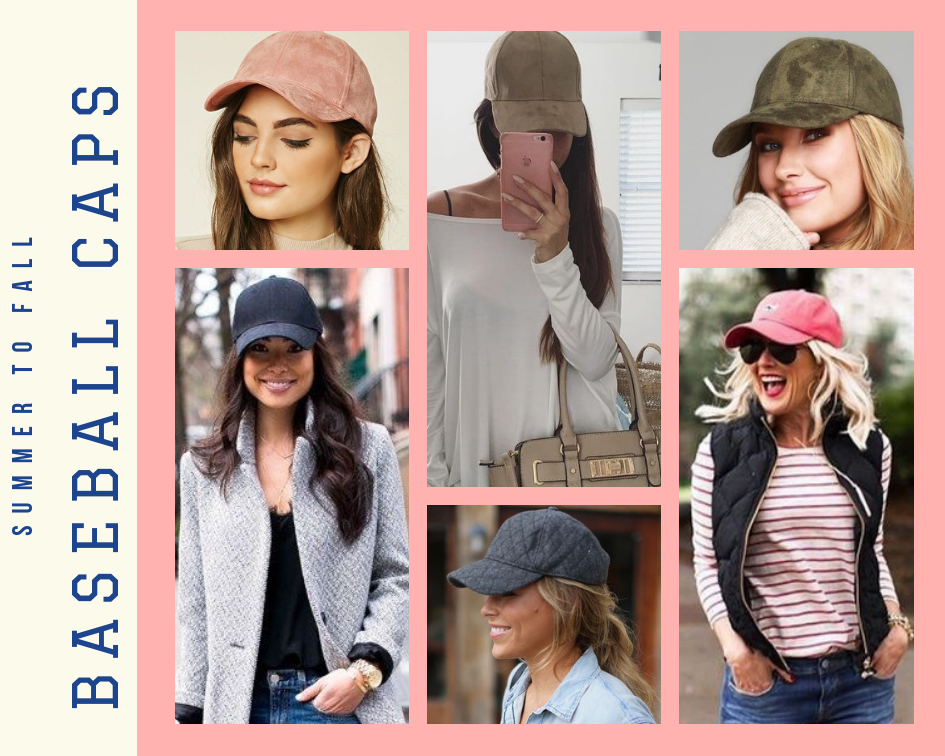 37. Sweaters and Shorts
This is a MUST for those of us enduring a warm Fall season. These looks are so cute and if the sweater is lightweight, you might be able to trick yourself into thinking you're actually experiencing the Fall season.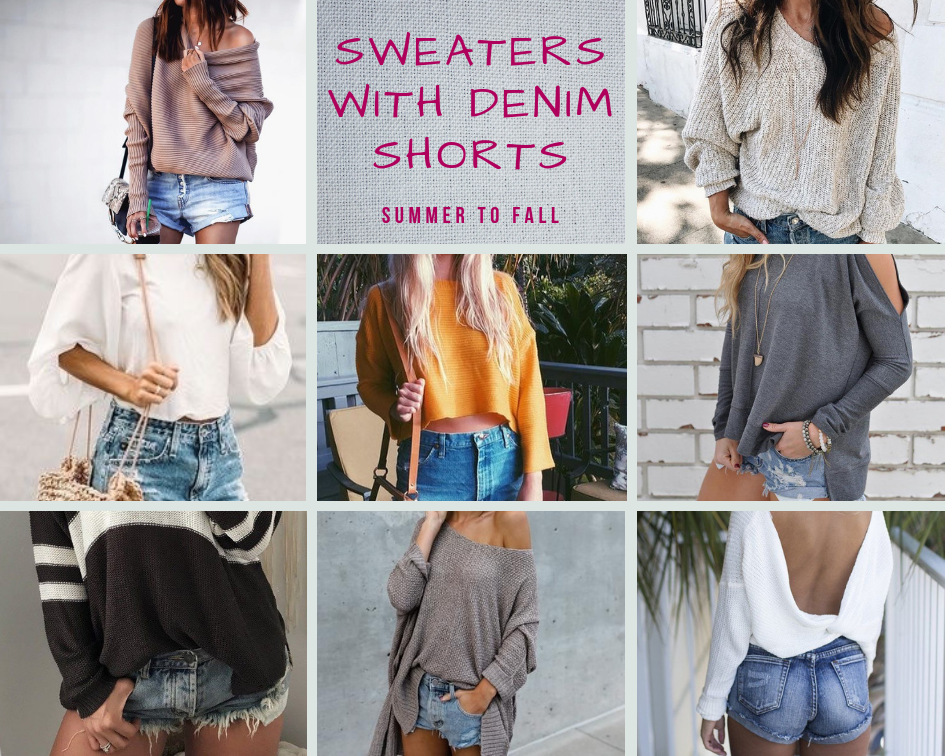 38. Denim Skirts
Denim Skirts are making a comeback and they're a hit!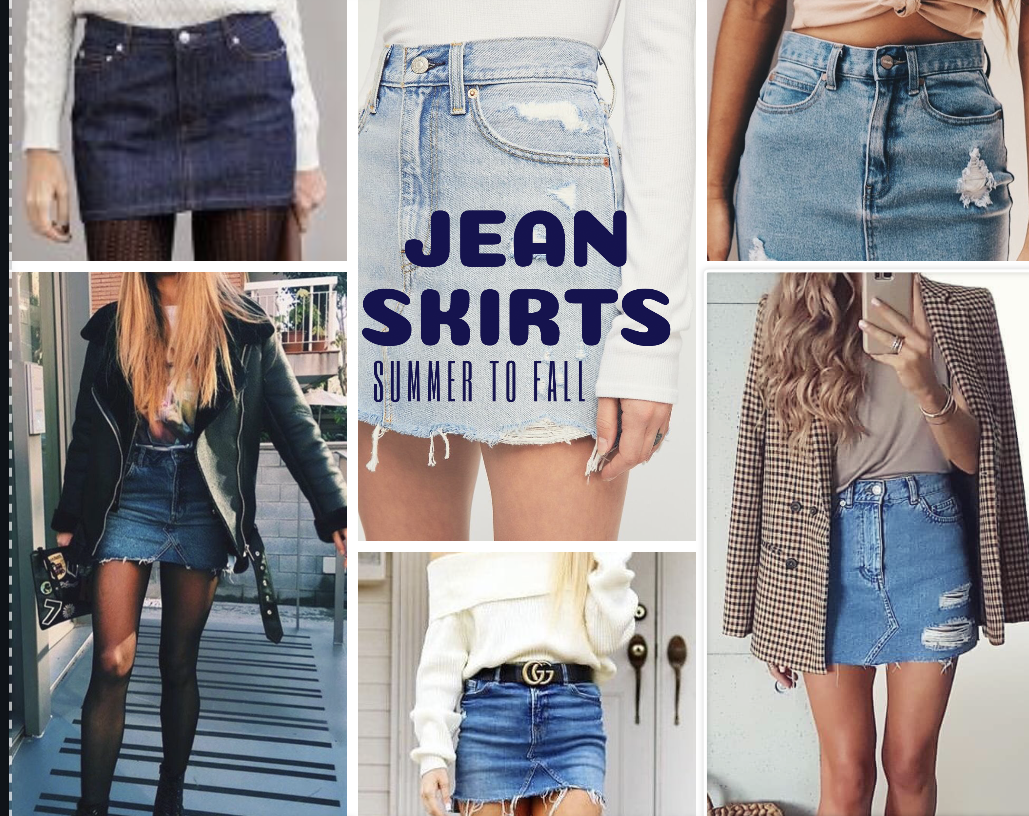 39. Jean Jackets
Denim-on-Denim is back and so is the lightweight Jean Jacket. This can look casual or it can look chic – it all depends on how you wear it!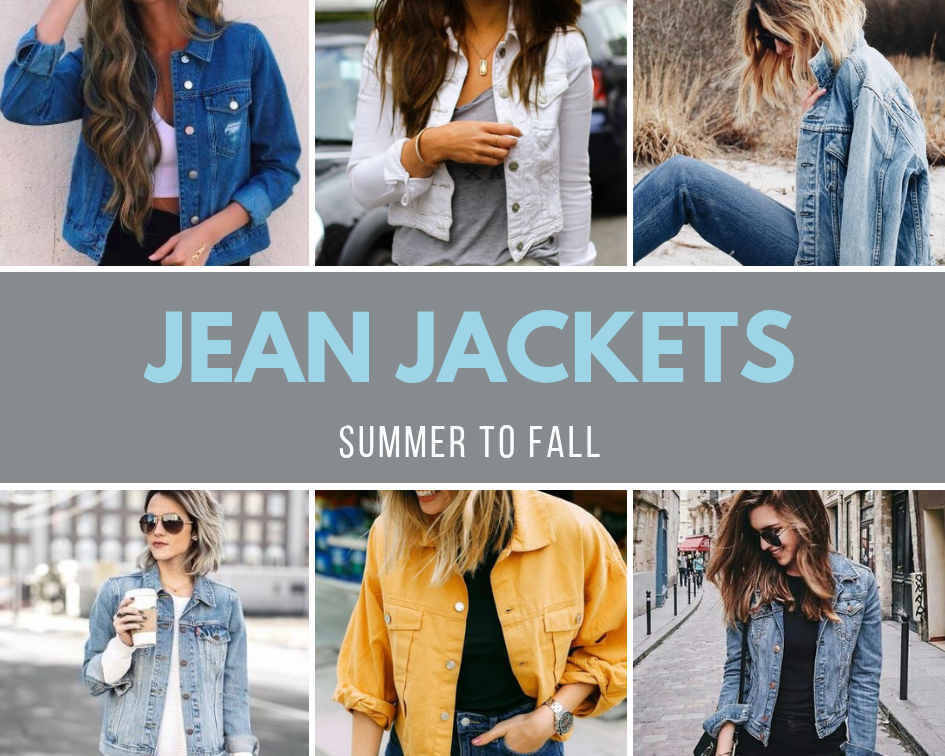 40. Bralettes with Sweaters
The gorgeous little lace details of bralettes under loose or off-the-shoulder sweaters is to die for!