Thanksgiving Dinner is full of colors, even though we may not realize it. Even I didn't realize it until I looked at our table on Thanksgiving Day! The most interesting part of all those colors on our table is that we almost always use those same colors in our fall fashion wardrobe. We are giving "looking like a whole meal" a new meaning this season.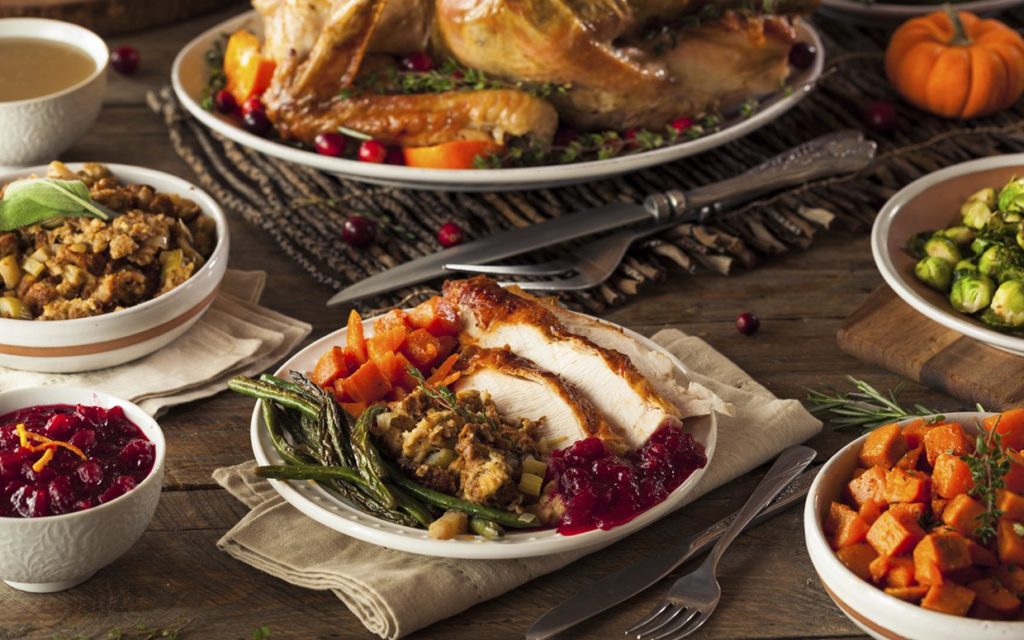 Firstly, the turkey. Turkey, when browned properly, has pretty red-browns, warm browns, and light browns from the skin of the turkey. When sliced, the turkey meat adds tan, cream, and white!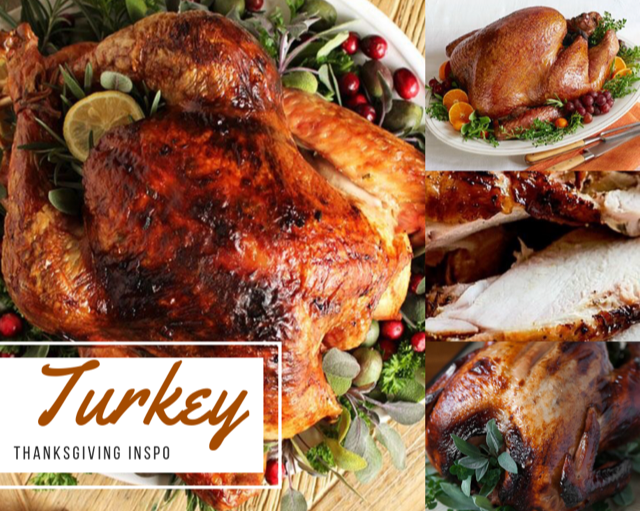 The Spiral Ham is full of differing shades of pink, mauve, and rose, which is extremely popular this season! The skin of the (usually) brown sugar-coated ham also adds in some warm brown tones.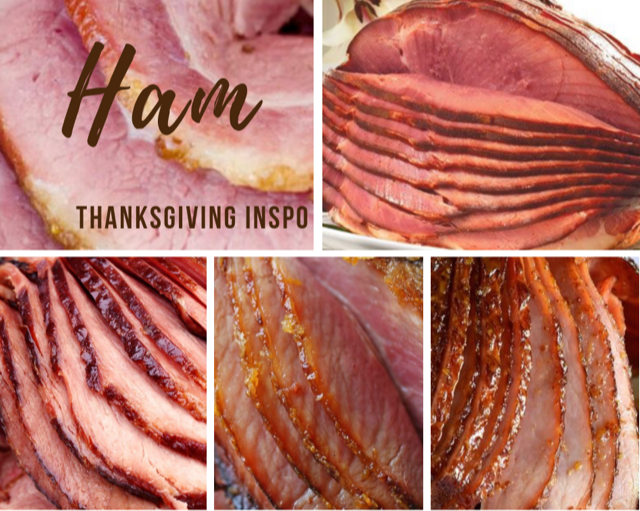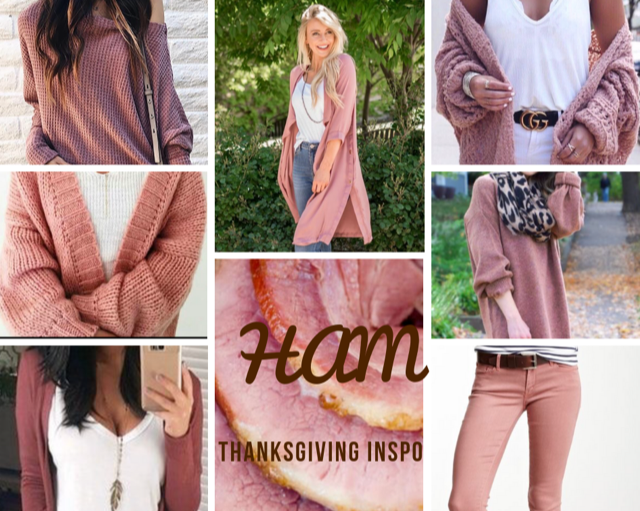 Depending on how they're cooked, green beans can be an olive green, army green, or a bright kelly green! All of these look adorable in fall outfits.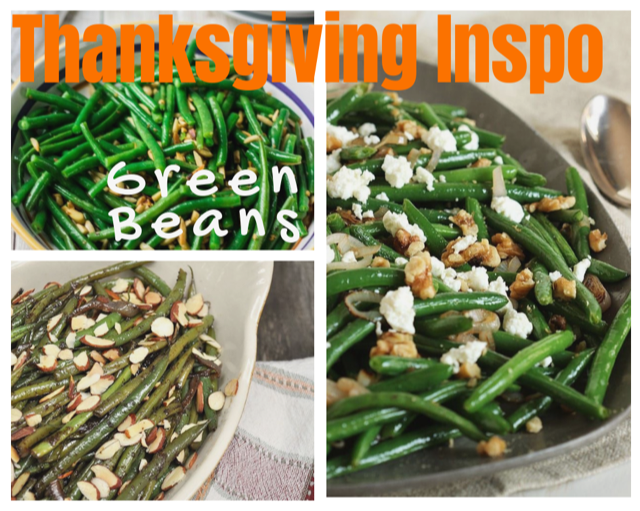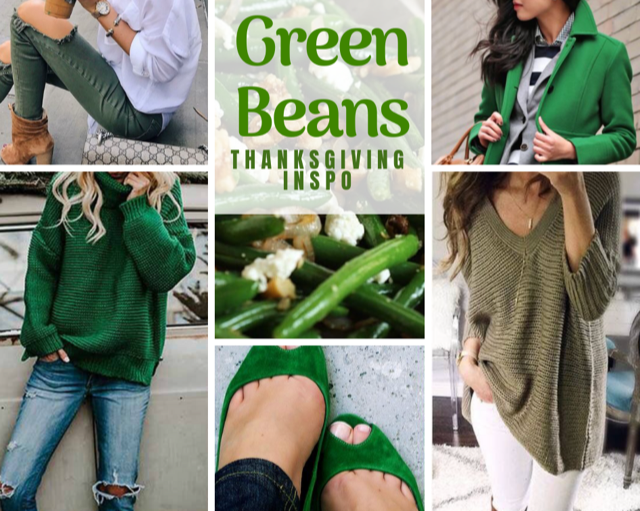 Cranberry Sauce is perfect for our fall wardrobe, providing us  with gorgeous deep red and maroon colors.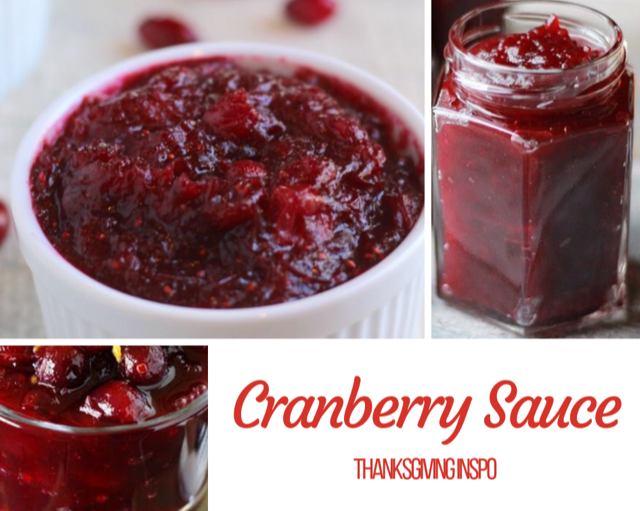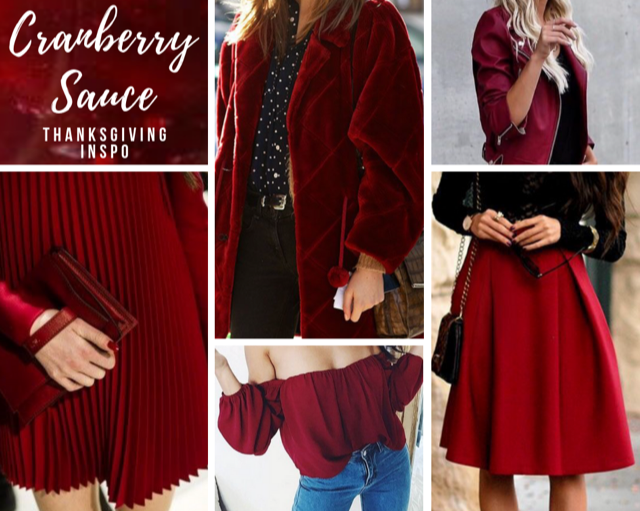 Gravy can be a light tan or a deeper warm brown color – both of which we tend to see in fall fashion!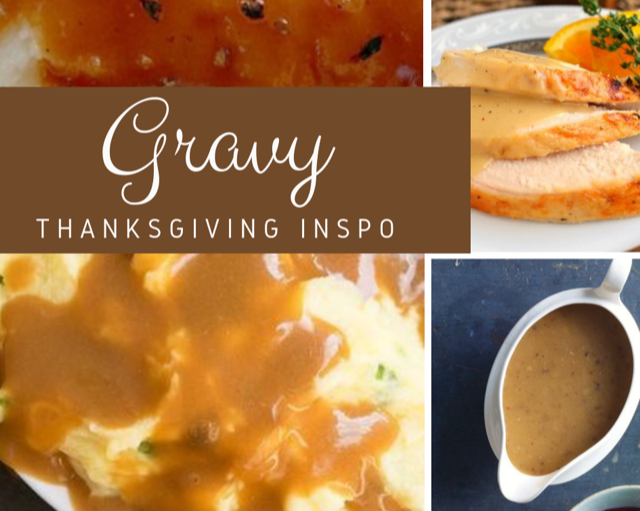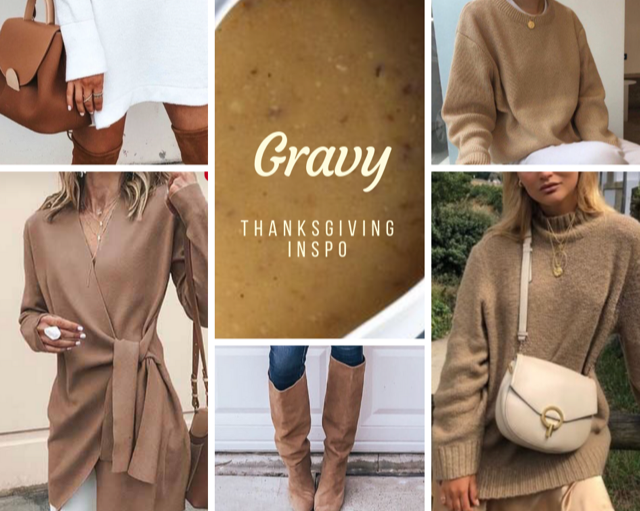 Mashed potatoes are cream and white. The butter adds in a cute pop of yellow, which can be seen in fall fashion quite often!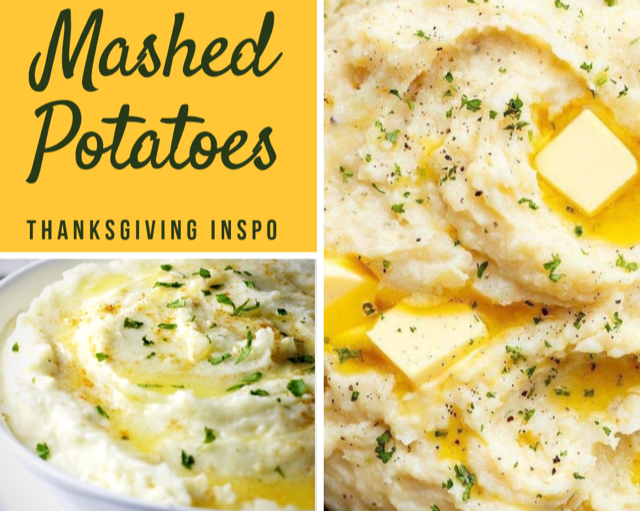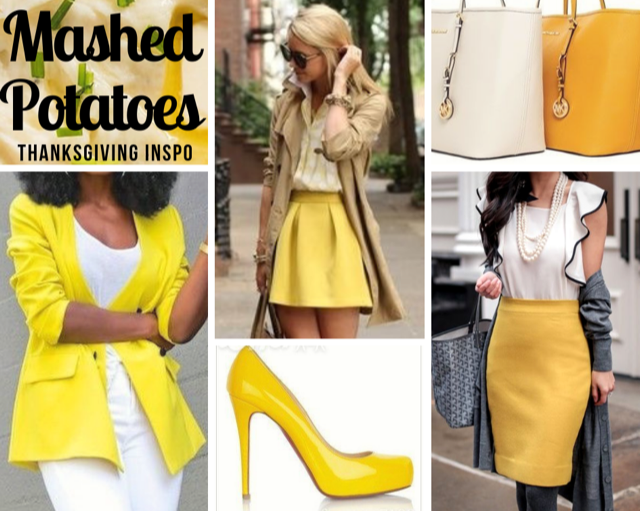 Squash can be different shades of yellow, yellow-orange, orange, and varying shades of green. Squash is usually paired with one another, as these colors should be when incorporated into your fall outfits!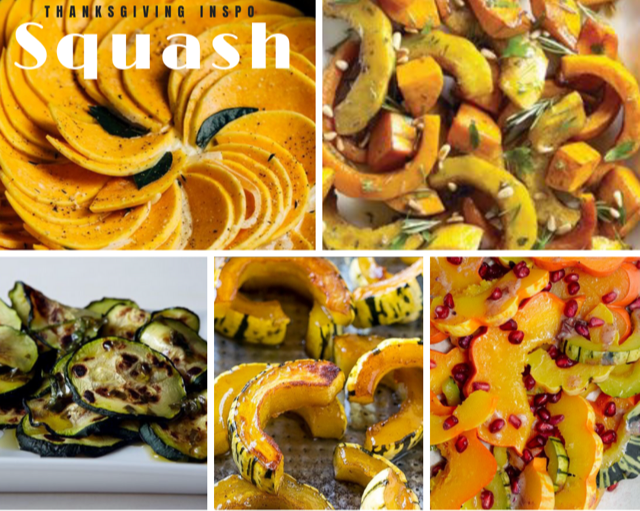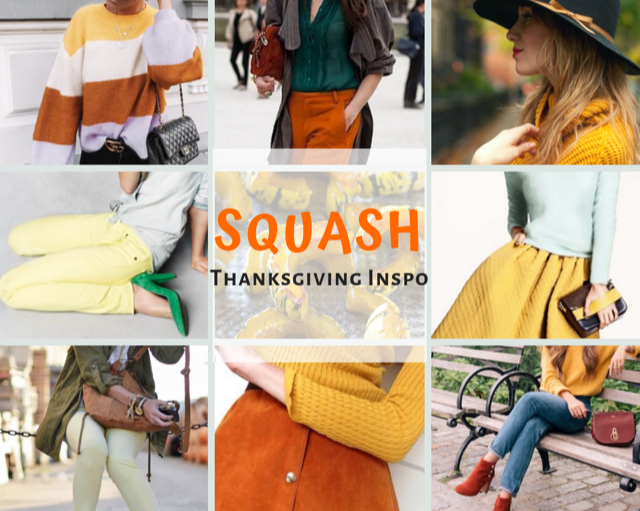 Rolls are cream, tan, and brown when browned! This "browned" color is often called "camel" in fashion.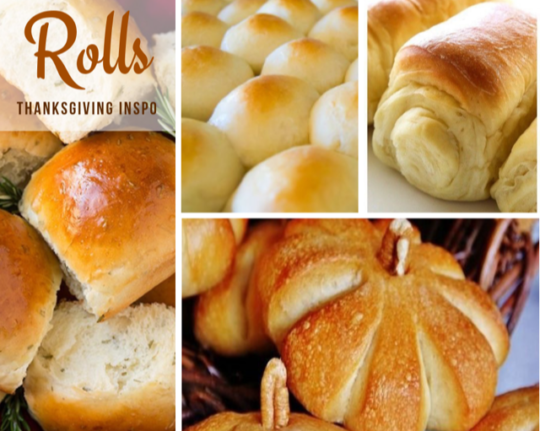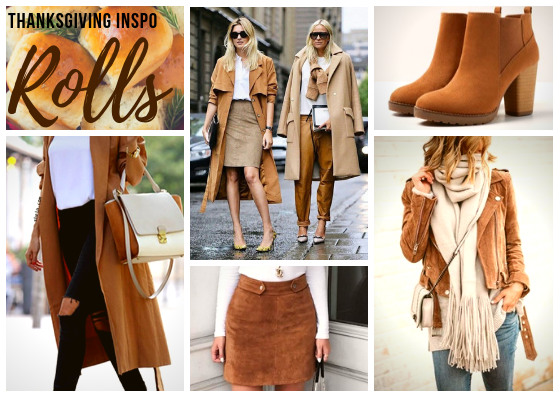 Corn can be a true yellow or a pale yellow. Yellows are a lovely bright addition to a normally drab fall palette!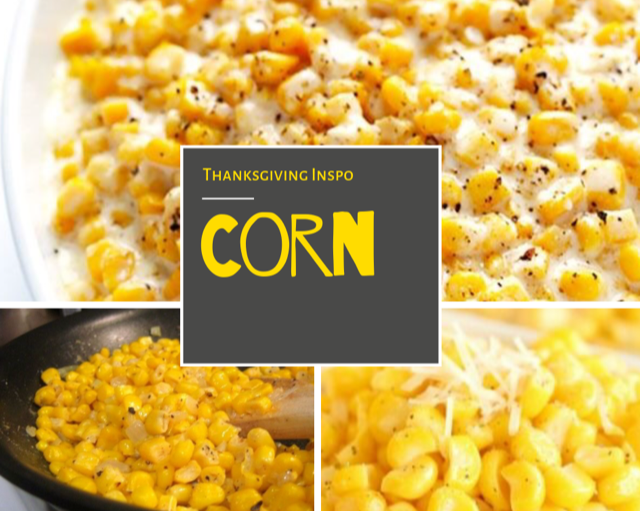 Figs are brown on the outside, with white, rose, and raspberry tones on the inside.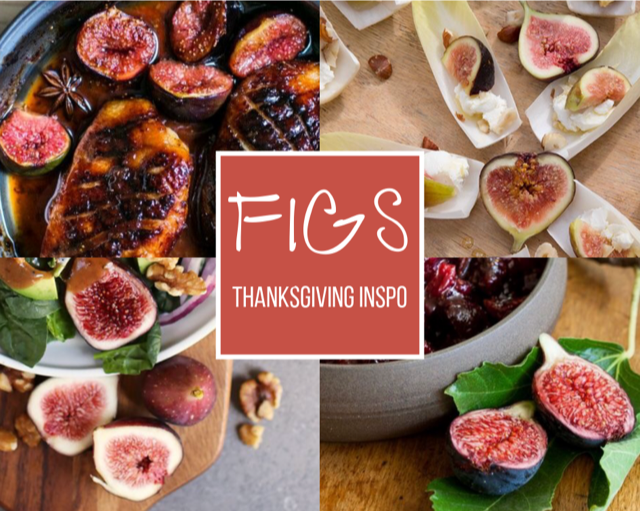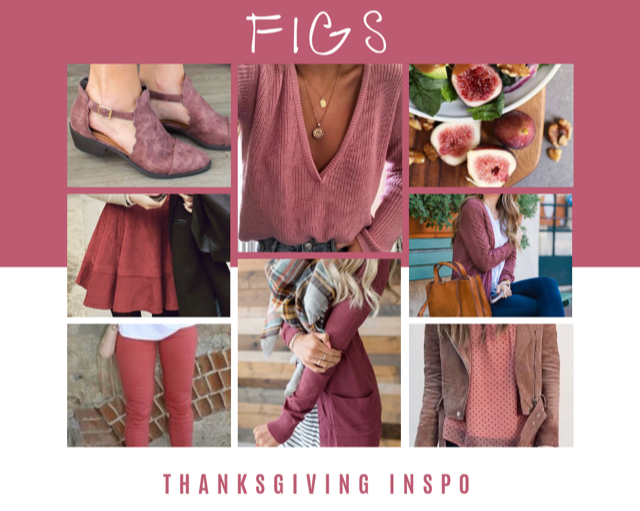 Sweet Potatoes are typically considered a true orange, but they are actually a very bright orange or a yellow-orange. The outfits with this color are to die for!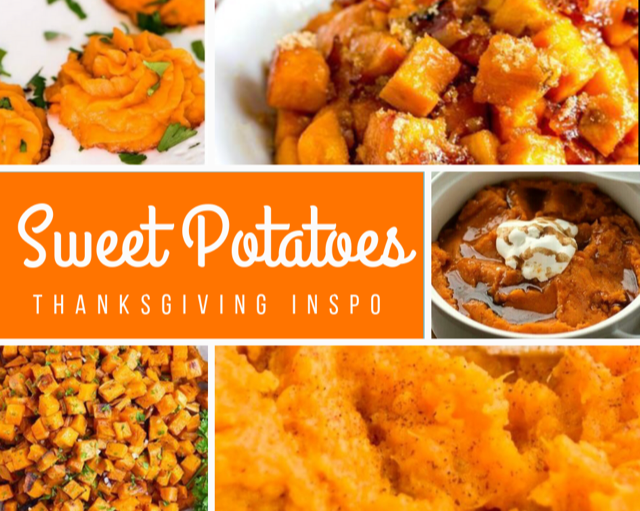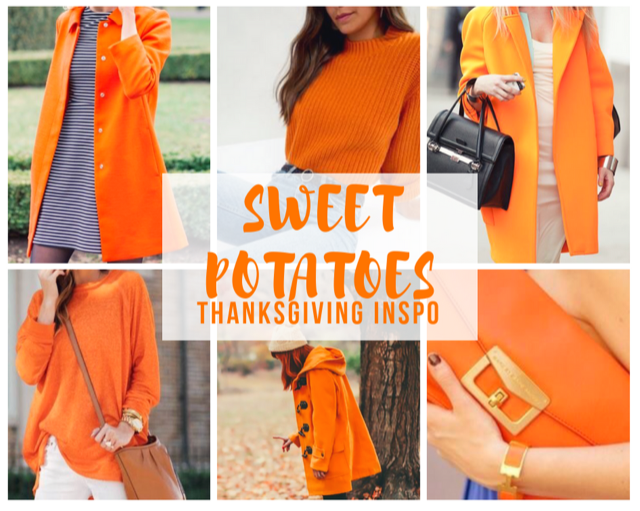 Mac n' Cheese can be pale orange, yellow-orange, or just yellow.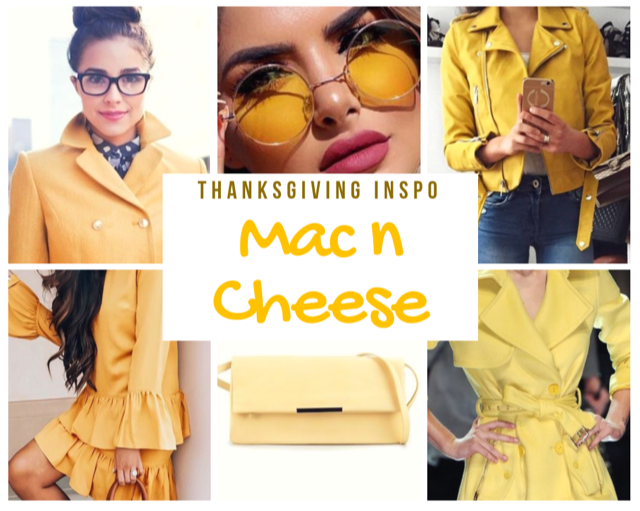 Brussels Sprouts are a range of colors from a dark leafy green to lime green and cream. These colors are represented in fall fashion choices nearly every fall season!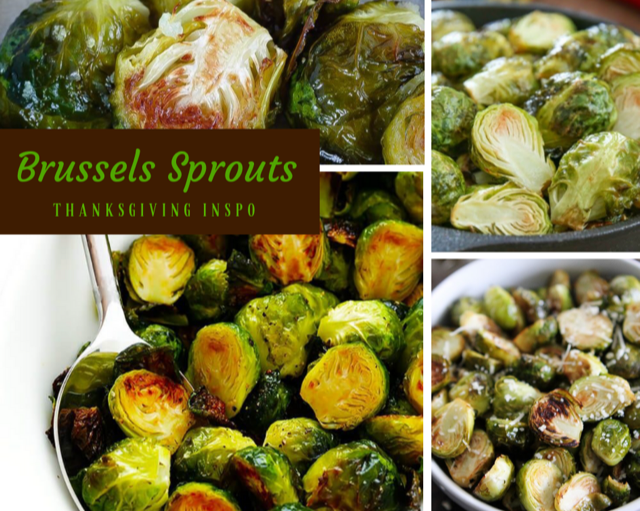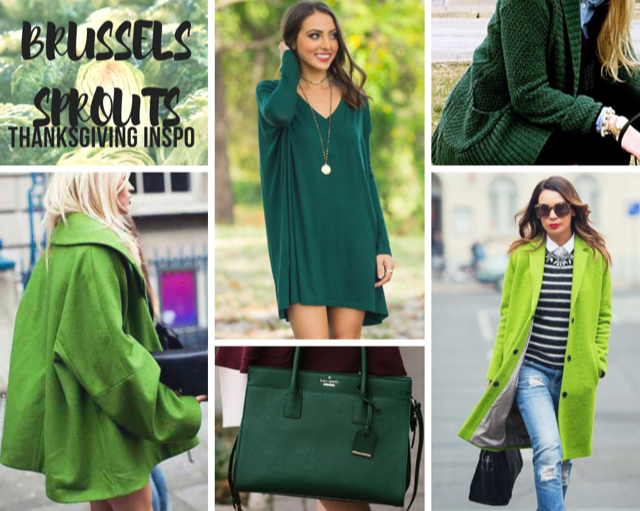 Cranberry Relish is many colors, such as maroon, red, magenta, and orange! These are gorgeous colors alone, but when paired together they're perfect for a bright fall outfit!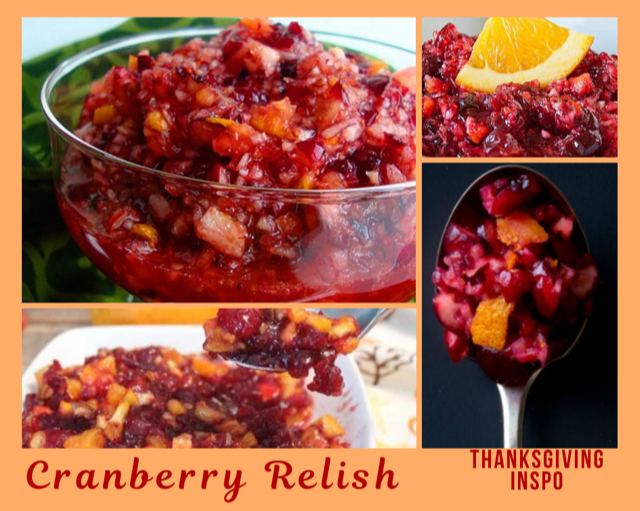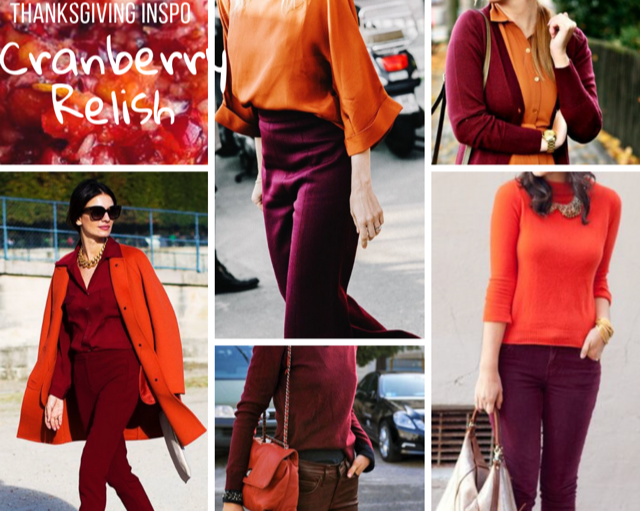 Deviled Eggs are cream and white from the egg whites, and yellow from the yolk, with a pop of red-orange from the paprika and/or cayenne added to the top!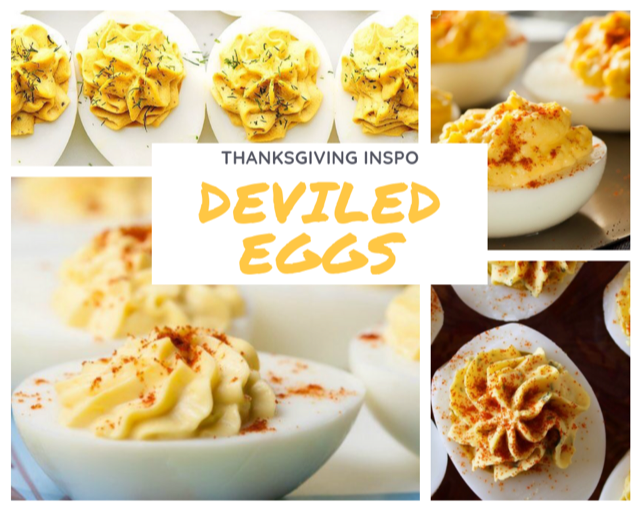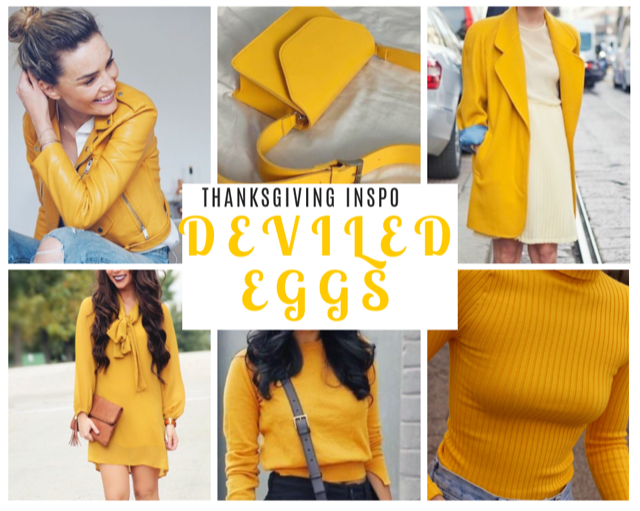 Carrots are a rich, deep orange. The outfits featuring this deep orange are beautiful!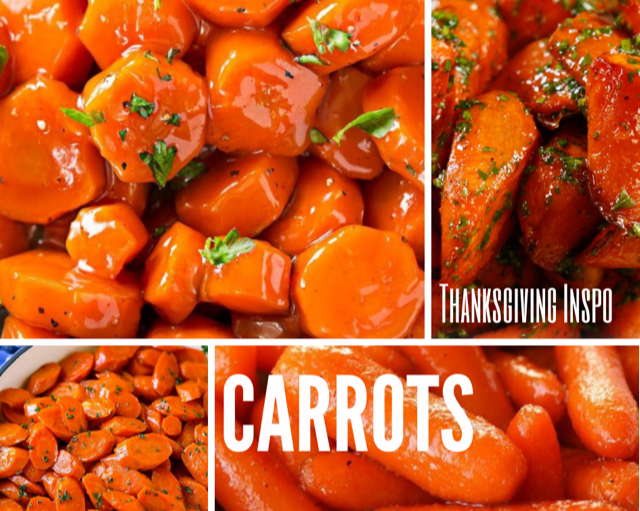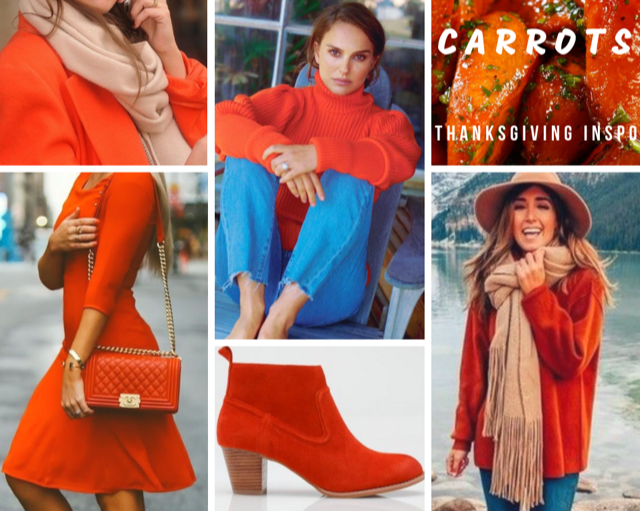 Apple Cider is a deep mustard yellow, usually paired with cinnamon or cream for the whipped cream.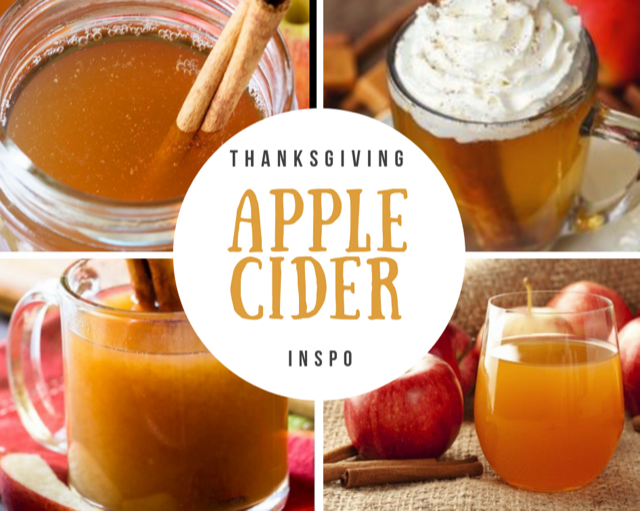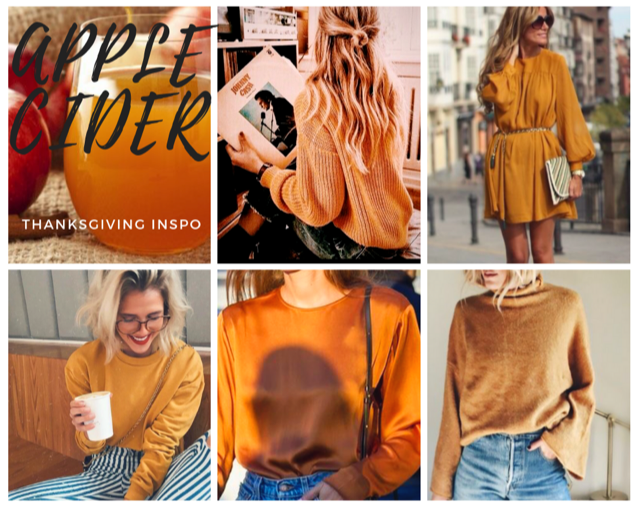 I associate champagne with gold, platinum, metallics, and sparkles! Metallics, sparkles, and sequins are great additions to any holiday outfit!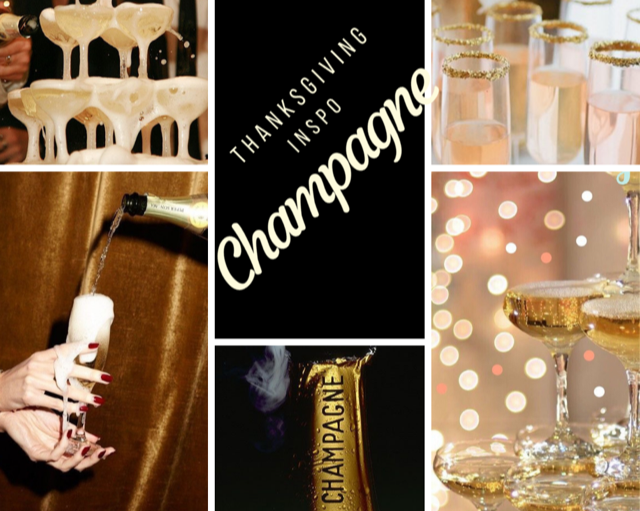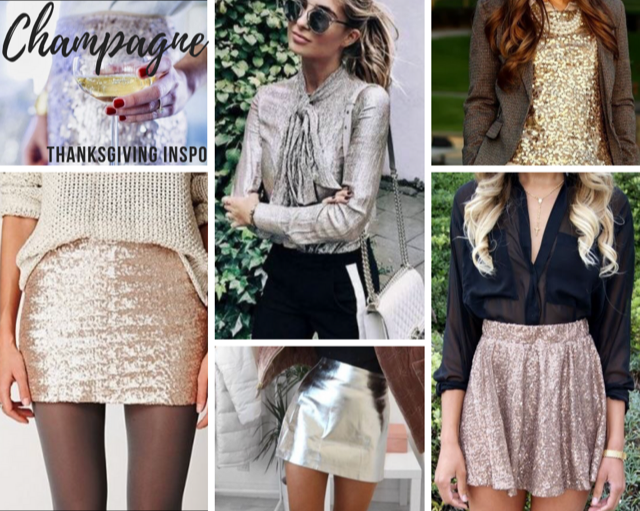 Mulled Wine is a dark red, burgundy – almost plum color!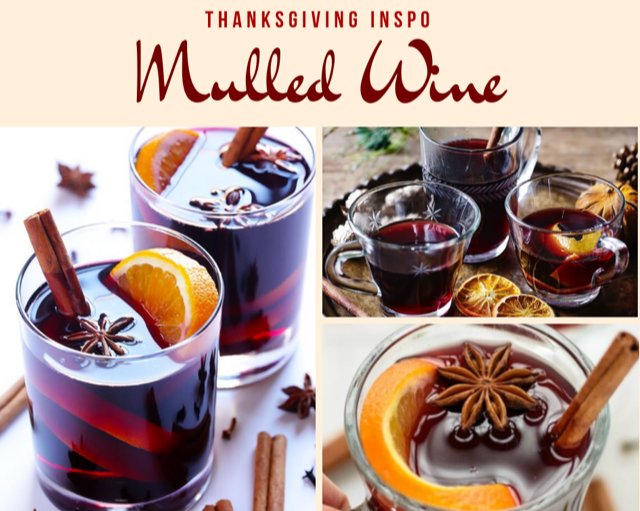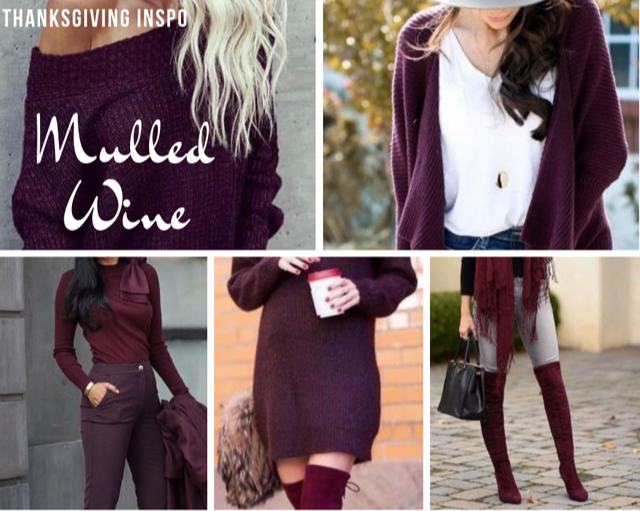 Apple Cider Sangria is a darker yellow color.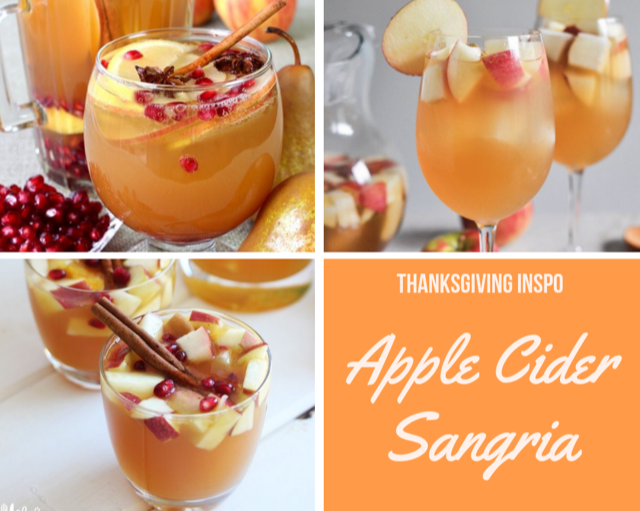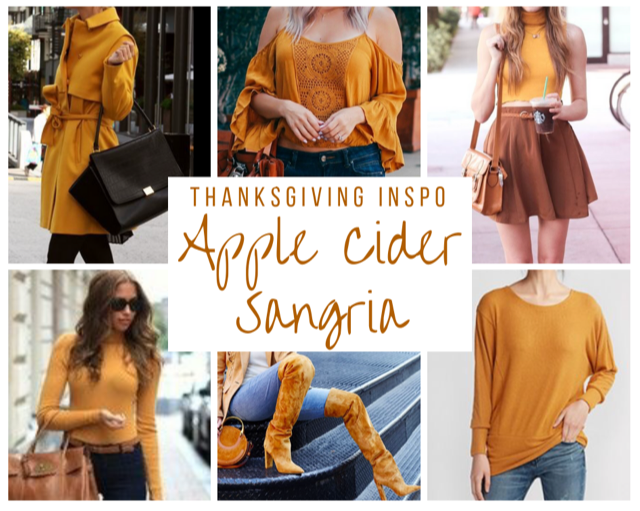 Honeycrisp Red Sangria is dark red, red, and orange.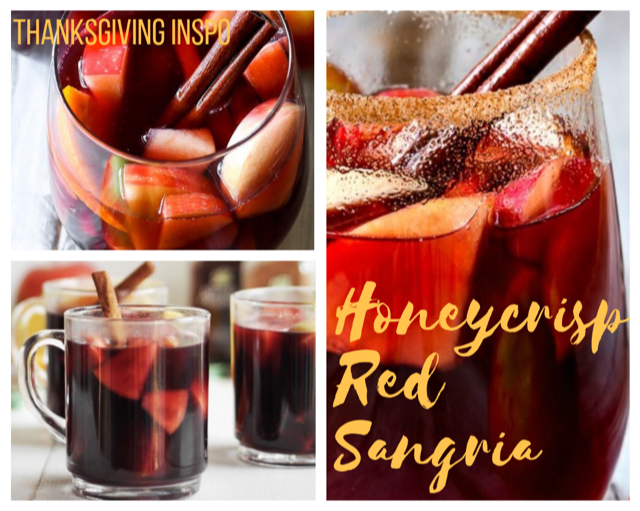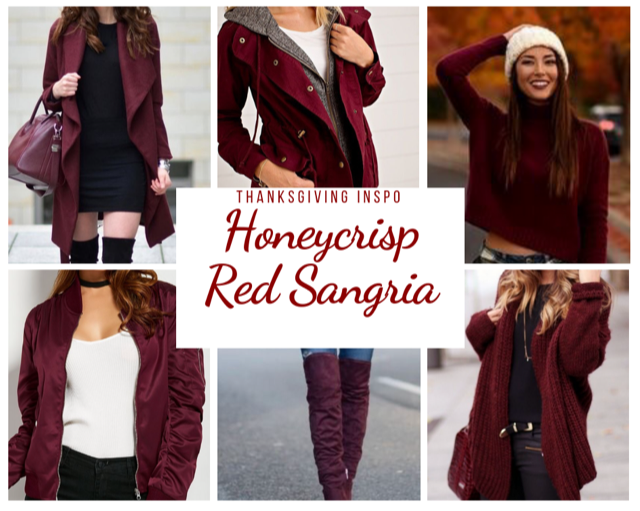 Hot Chocolate is usually a chocolate-brown, darker brown, and cream for the whipped cream on top! This chocolate color is gorgeous in fall and winter fashion.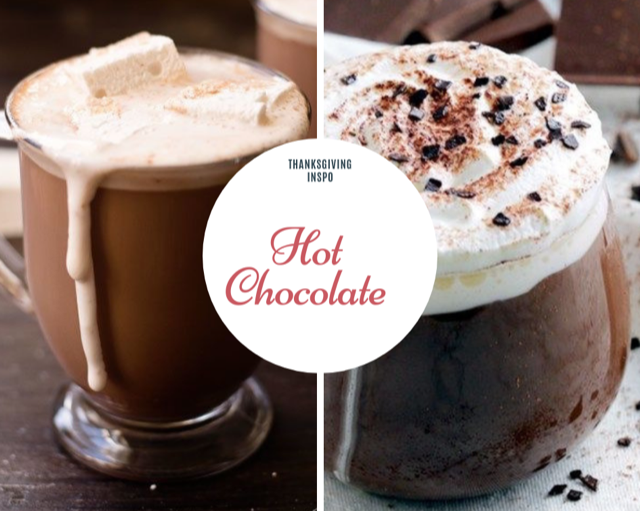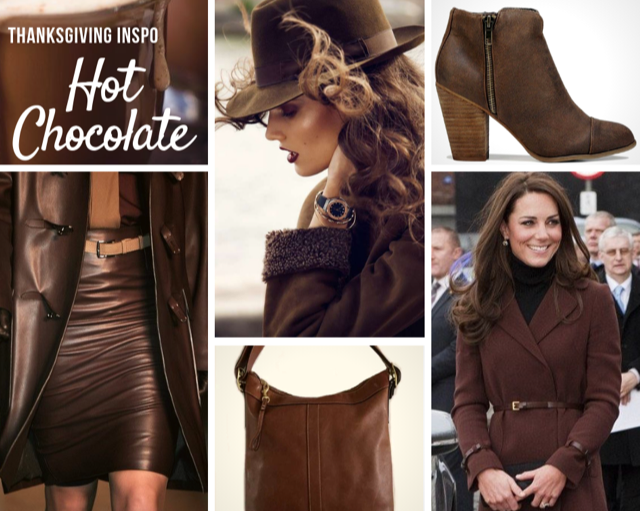 Pumpkin Pie gives us rust, dark orange, warm tan from the crust, and cream from the whipped cream! We see this rusty-orange color everywhere in fall fashion!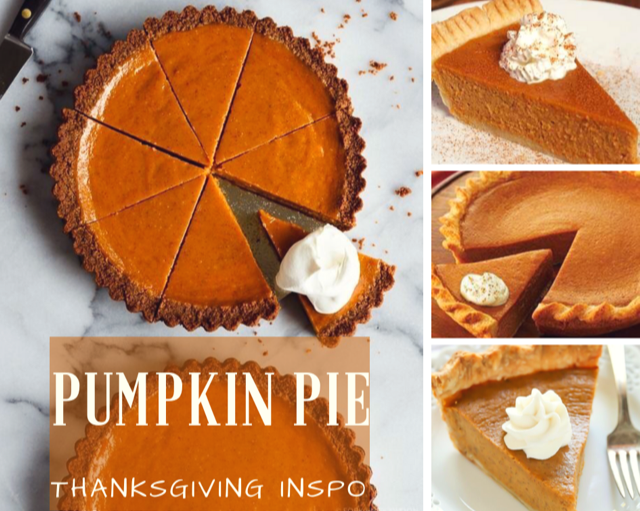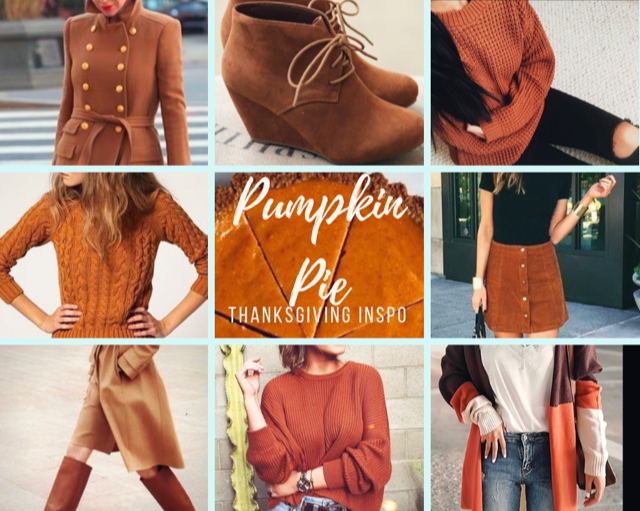 Apple Pie is a pale yellow, tan and warm brown from the crust and the cinnamon, and cream from the ice cream usually paired with this dish! I was shocked at how the outfits truly looked apple-pie inspired!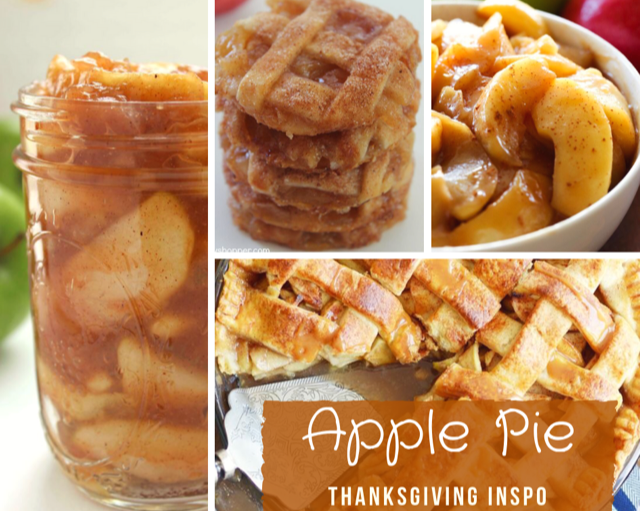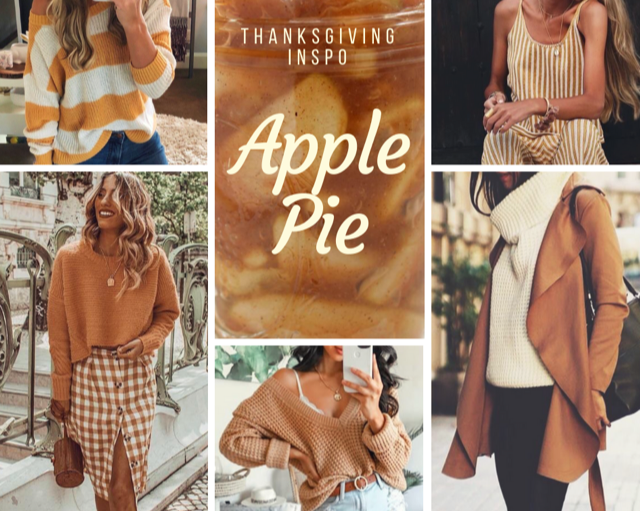 Pecan Pie is various shades of brown, reddish brown, and tan from the crust! These warm browns are so pretty when incorporated into our wardrobe.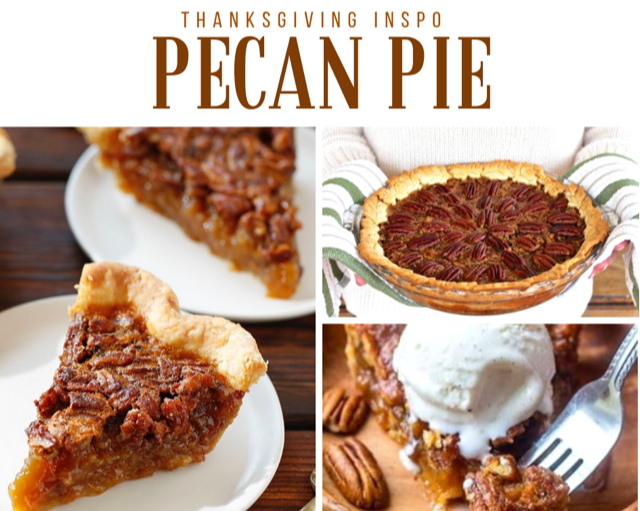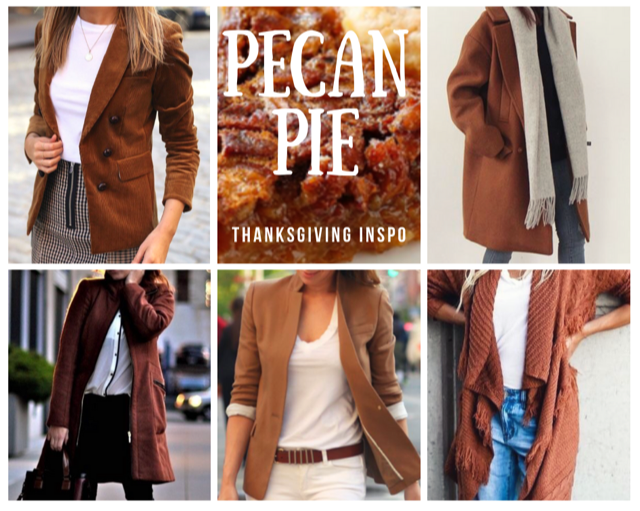 Blueberry Pie is indigo, dark blue, purple, and magenta from the pie filling! These are different from the usual mustard-orange-maroon fall palettes that we see, but they're gorgeous nonetheless.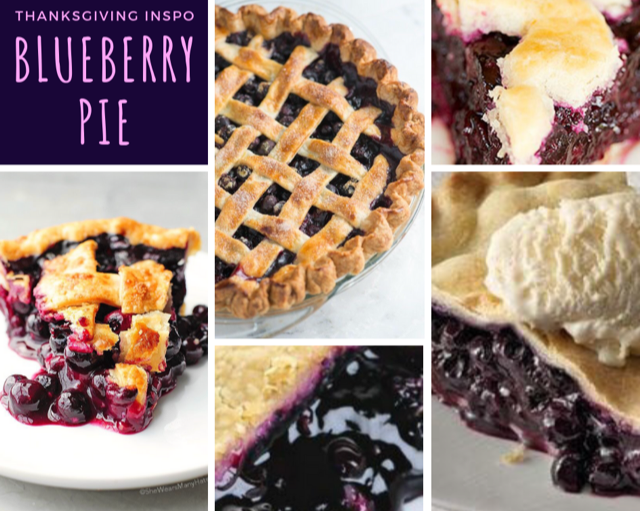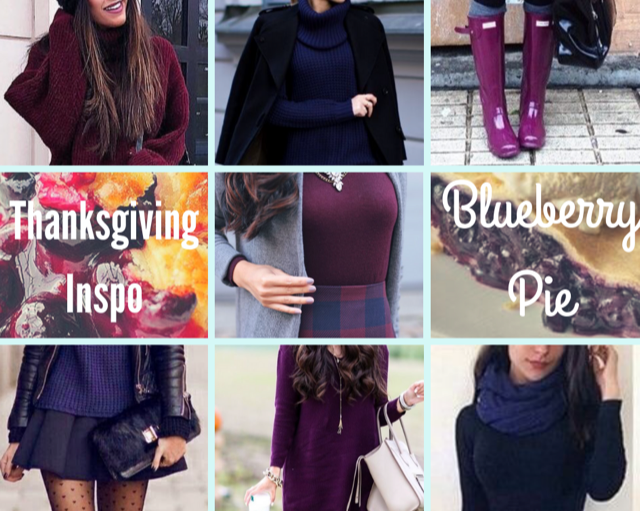 Blackberry Pie is black, plum, and purple from the pie filling.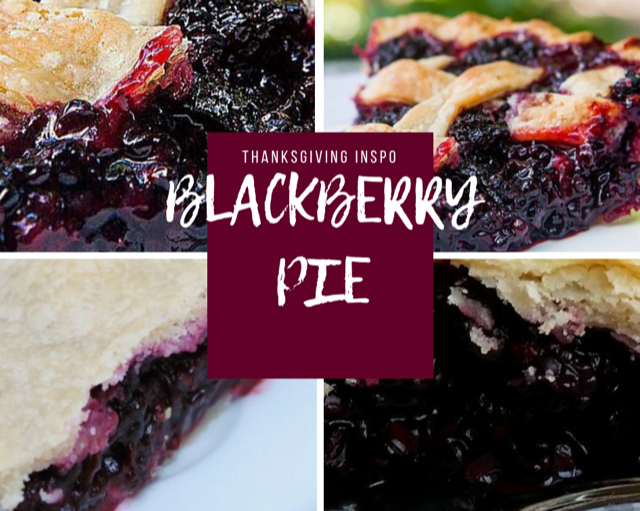 Cinnamon is a orange-brown rusty color! I always thought of cinnamon as being more brown than rust, but when finding cinnamon in fall outfits I noticed how pretty of a color it can be.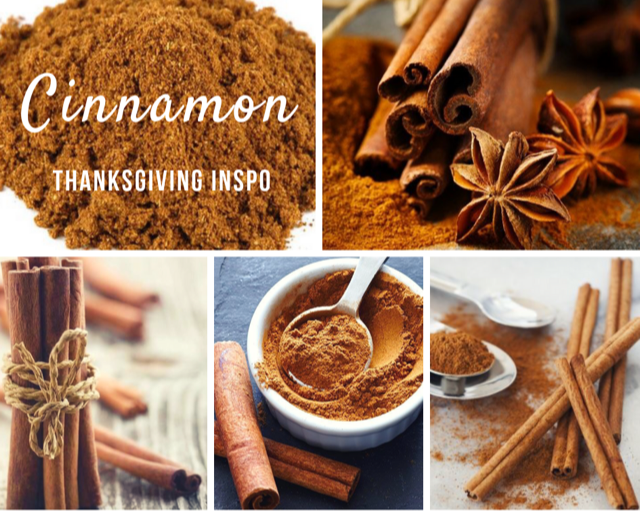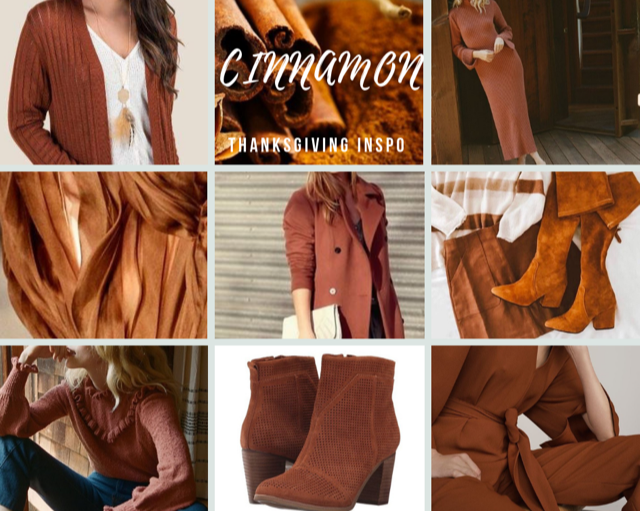 Caramel Apples are a warm tan, well, caramel color. Check out how we incorporate caramel into our fall fashions!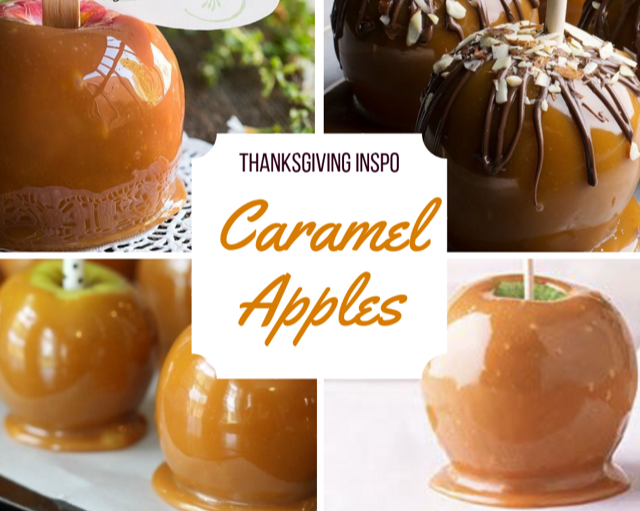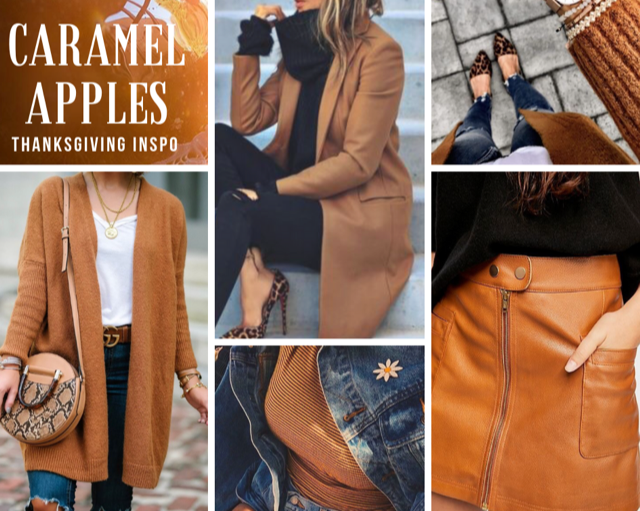 Chocolate Pie is a deep chocolate brown with tan for the crust and white from the whipped cream!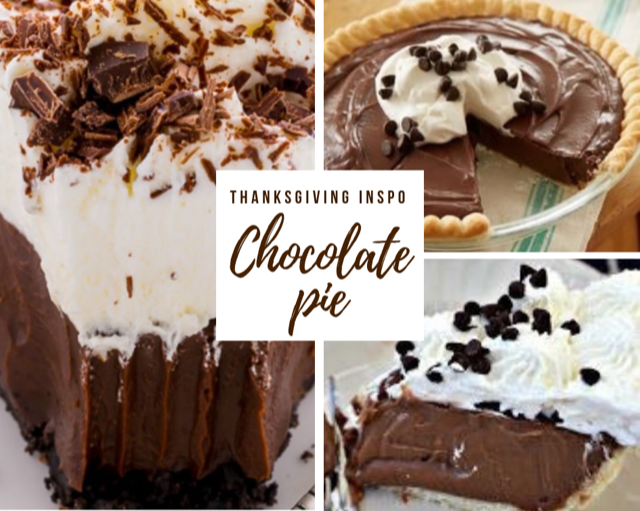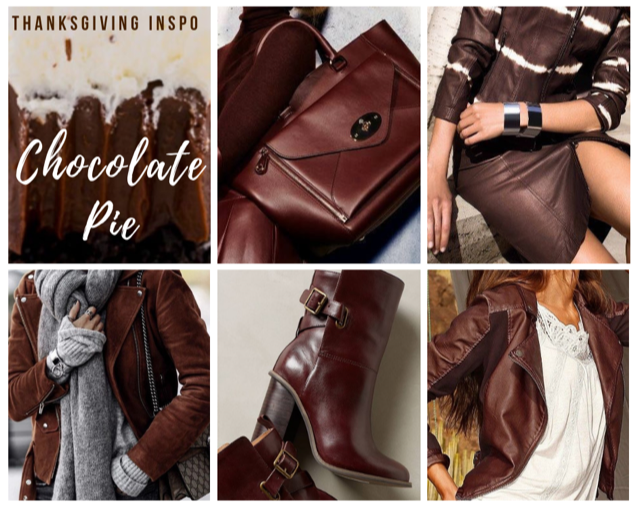 Candy Apples are a GORGEOUS bright red color that I am LIVING for this season!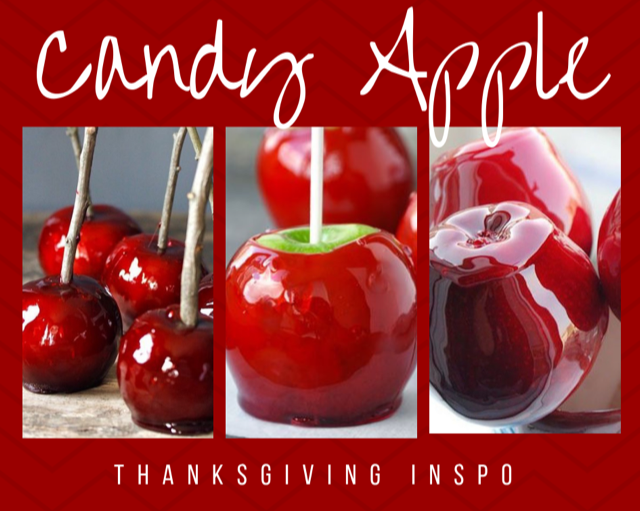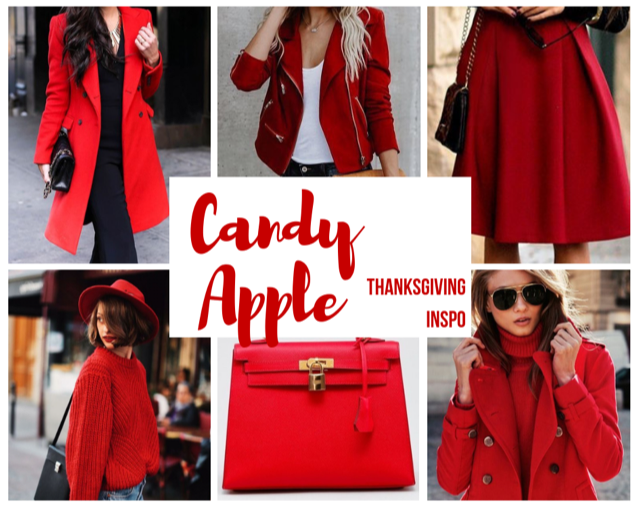 Who knew that Fall fashion was inspired by what we eat at Thanksgiving? I don't think it's the same thing for every big meal that we make regarding holidays, but it could be – look out for more articles like this one! In the meantime, give thanks and take a moment to reflect on the blessings this year has brought you and your friends and family!
Happy Thanksgiving, everyone!